GPS for your Ultra-Mobile PC or phone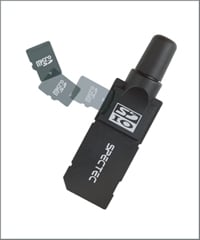 For all you UMPC users out there longing for GPS, this just might be the gadget for you: the Spectec SD/SDIo GPS Receiver – a 20 channel GPS tracker that fits in an SD Card slot. In addition, it has an internal slot to hold a 2 gigabyte microSD. Plug that fella in your SD equiped UMPC or phone and you have instant GPS. No word on pricing.
I hope these guys will be at CES, cause I want to see that gadget.

As an Amazon Associate I earn from qualifying purchases.