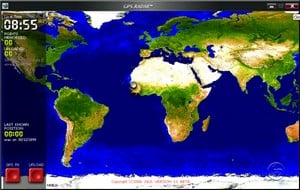 Great GPS program for the UPMC devices out there. GPS.RADAR for tracking where you are in the world! As a GIS (Geographical Information Systems) professional this program is really exciting for me. Already downloaded and running… wonder what that means… InkShow anybody?? Anyways, here are some features from JGUI.
monitor your localization by GPS receiver
save the track and points of moving
generate various XML reports upload points to dedicated Internet server
review your moving on designed web pages with Google Maps® streets or satellites images
generate GoogleEarth® current location
generate GoogleEarth® track files
review your moving directly on GoogleEarth® interface screen with all its features
generate Google® Maps on-line web page
review your moving directly on Google® Maps on-line web page service
Thanks to Steve at Carrypad

As an Amazon Associate I earn from qualifying purchases.