Grab Evernote Premium and a Sweet Evernote T-Shirt for $40
It's pretty clear that we are big fans of Evernote around here, and I have personally been using it for over two years to make sure I don't forget ideas, dreams, cool gadgets I want and much more.
I've been using the free version of Evernote, but today I couldn't resist and bought Evernote Premium, which brings a number of extras to the table. This deal was even more enticing, because it included a free Evernote t-shirt.
The shirts come in small through XL and are available in mens and women's sizes.
The deal is available for a limited time at Fab.com, where shirt and year of Evernote Premium are normally $45 (the same price as Evernote Premium alone).
Because Fab.com hit 1 million users, you can follow this link to get a free $10 credit that knocks your price down to $35 plus $5 handling.
After you enter your email address and create a password, click on Today's Sales and look for Evernote towards the bottom of the list.
You can click this link to go direct to the Evernote Premium deal, but if you don't see the $10 credit you'll need to try the above link. The deal is only good through tomorrow at 9:59 AM Eastern. We normally try to avoid posting flash deals, but this is too nice to pass up.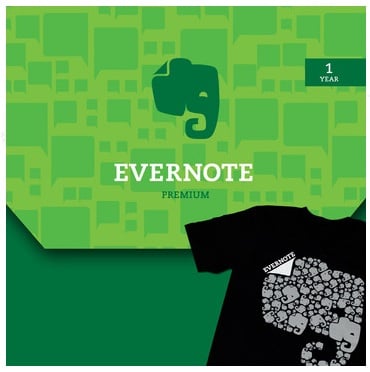 Why get Evernote premium?
Evernote lists 10 reasons you should get Evernote Premium on their website, many of which I have shares below.
Monthly upload allowance increased to 1GB
Maximum note size upgraded to 50MB
Access previous copies of notes
For Android, iPhone, iPad and iPod Touch users, access your notebooks offline
PIN Lock on mobile apps
Search within PDFs
Priority image recognition
Premium support
No ads
My personal favorite features are the priority image recognition, ability to search within PDFs, offline note access and increased monthly uploads.
I use the Evernote clipper to save important articles I find online, text and all, in case the link dies. It's also where i keep software key codes, important notes, recorded audio interviews, meeting notes and much more.

As an Amazon Associate I earn from qualifying purchases.