Grand Theft Auto 5 Further Adventures in Finance and Felony Release Date & What's New
It's been nearly three calendar years since Grand Theft Auto 5 smashed weekly sales records with its launch on the Xbox 360 and PS3. At the time, the game was clearly a big deal. What no one expected was that we'd still be talking about the it more than two years after they first launched and more than a year after Rockstar Games brought it to the Xbox One and PS4. It's still selling rather well, which is why the Further Adventures in Finance and Felony Update for the game is such a big announcement.
Rockstar confirmed basic details about the Further Adventures in Finance and Felony Update last week, then released the gigantic upgrade this morning for Xbox One, PS4 and Windows PCs. It adds cars, clothes and even more collectibles to the Grand Theft Auto 5's already huge stockpile of digital goods for GTA Online. It'll also let those with enough clout become the head of their own corporation, with the responsibilities and perks that such a position would entail in real-life.
Read: GTA Online in 2016: What You Need to Know
Further Adventures in Finance and Felony Might Seem Familiar
What Rockstar is adding with Further Adventures in Finance and Felony is the opportunity to go further than any organized crime participant has in any game in the series. Players head their own multinational corporation, allowing them to become the ultimate rags to riches story in the series.
The key to the experience is access to the SecuroServ network for trafficking goods and the new Buy and Sell missions. With the buy missions, you and a team need to secure the crates of contraband. The more risks you take, the more money you'll make. From time to time you'll need to successfully defend your warehouses from gangs and the authorities.
New CEO perks include, the Chasing Out and Salvage VIP Challenges, and new VIP Work, Headhunter, Airfreight and Haulage.
The Trading Places Adversary Mode gives players the opportunity to rake in a huge amount of cash by killing a "winner."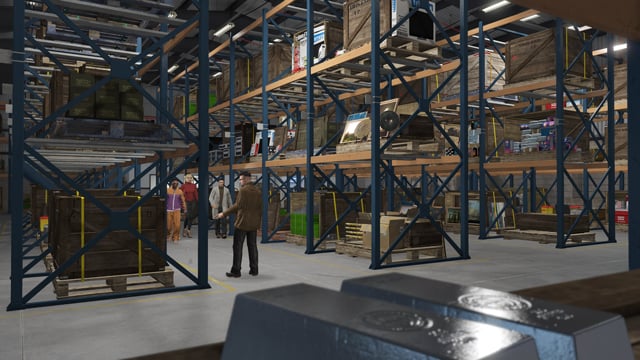 If the idea of taking a GTA Online character and running an enterprise sounds familiar it's because Rockstar introduced a similar mechanic a while back with VIPs. VIPs are able to amass tons of wealth, wealth that they can use to pay other players to be a member of their security detail or by ridiculously expensive extras. Case in point, the super-giant yacht with a missile launch included in the Executives and Other Criminals Update for Grand Theft Auto 5's GTA Online.
Read: GTA 5 Executives and Other Criminals Update: What's Inside
This Update Adds New Properties to Buy
Toys matter as much as mission objectives in GTA Online, really. After all, you need something to do with the millions of dollars you've collected. For newly minted CEOs following the Further Adventures in Finance and Felony Update that new something is offices. More specifically, very tall office buildings.
Read: Why & How to Make Money in GTA 5's GTA Online  
"Acquire a high-rise office and special warehouse properties."  Each of the new offices sold by the Dynasty 8 agency come with an assistant, helipad, arcade game and optional storage space for weapons and equipment. The SecuroServ Cargo Network is what allows you to traffic goods across the state. It's available from the office suites as well.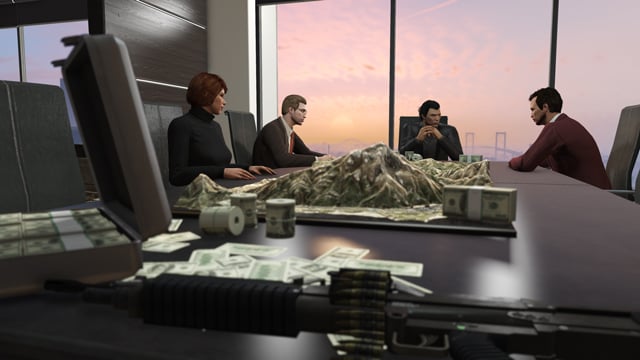 Besides the office towers to look forward to, there's the warehouses. Players are able to reach the upper ranks of corporate America by selling contraband and other illegal items in Los Santos and the rest of San Andreas. Rockstar is also promising battles with other criminal types and the brave officers of the Los Santos Police Department.
Getting away from real estate, CEOs get a new batch of vehicles that are made specifically for them.
The new HVY Bricakde, Bravado Rumpo Custom provide new tactical transport. There's also a new generation of sports cars, with the Pegassi Reaper, Vapid FMJ and Grotti Bestia GTS. Buckingham Nimbus, Volatus, Tug and Enus Windsor Drop also provide some variety for users that want to do more than just drive.
New Drum and Magazine attachments from Ammu-Nation make players that much more deadly. There's new SecruoPro clothing available too,
Further Adventures in Finance and Felony Is Free to all with Grand Theft Auto 5 on Modern Systems
Every single update to GTA Online has been free. Rockstar gives away access to updates because it's hoping players will spend real-world money on items for their character. Of course, players always have the option to work hard to afford what they want in the game, but it seems a substantial amount would rather just transfer in some cash. The Further Adventures in Finance and Felony update is completely free, no matter what modern platform you're playing on.
Only owners of Grand Theft Auto 5 for Xbox One, PS4 and Windows PCs are getting the Further Adventures in Finance and Felony update. Rockstar stopped adding new multiplayer features to the Xbox 360 and PS3 versions of the game a while back due to those consoles running out of RAM. The studio has said publicly that adding any more content to those versions would destabilize them.
Finance & Felony Update Release Errors
Although the update is already available, many users report having issues with the Finance & Felony Update triggering errors while trying to connect to Rockstar's servers. Rockstar hasn't officially commented on the error, but it seems as if the problem is coming from millions all trying to reconnect to the game at the same time.
Further Adventures in Finance and Felony Trailer
New copies of Grand Theft Auto 5 for Xbox One and PS4 still sell for $59.99. Used at GameStop, the open-world title sells for $52.99.
Everyone should be prompted to update the game the next time they open it on their system. That is, unless they have automatic game updates turned on. Users with automatic updates should be getting the update right now.

As an Amazon Associate I earn from qualifying purchases.