Grand Theft Auto Content Creator and Free DLC On The Way
Grand Theft Auto 5 players will have to wait a bit longer for the Stimulus Package gift that developer Rocker Games announced late last month. On the other hand, they'll also get free downloadable content to play in the meantime.
Rockstar Games announced the new content today in a post on its blog. Entitled The Beach Bum Pack, the first part of the new DLC will add beach-themed vehicles and weapons to GTA 5's online multiplayer world and its story-based narrative mode. It'll also add new races, death matches and a few miles of added beach to the game's Los Santos and Blaine Counties. Rockstar Games says that users should expect the Beach Bum Pack to launch sometime in early November.
For users who prefer less structure, Rockstar is also giving gamers the ability to create their own content for Grand Theft Auto Online. With the update users will have the ability to create their own Deathmatch and Race levels in Grand Theft Auto Online. Rockstar will then highlight its favorites for recognition inside the game and on its website. It's unclear when this add-on will launch. Rockstar says that users should expect it "this fall."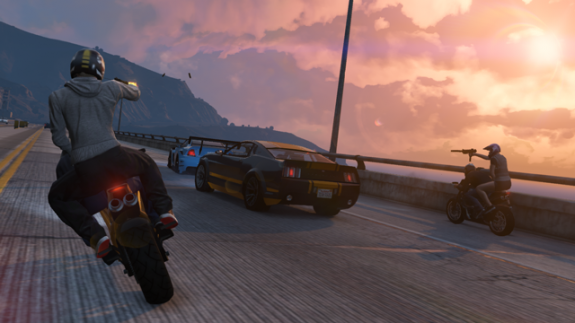 Finally, it's also introducing new Social Club events to Grand Theft Auto Online so that users can earn rewards and in-game content when they complete missions as part of special social weekend events.
As for the Stimulus Package itself, Rockstar says that it won't begin rolling it out until it has managed to stop the saving issues that are still plaguing Grand Theft Auto Online. It originally announced the package as a thank you to users who created accounts during the multiplayer mode's rocky launch.
Read: Rockstar Says Sorry for GTA Online Issues with $500K In-Game Cash
Users will be able to redeem the in-game cash for houses, weapons, vehicles, tattoos and new clothing. Usually they'd have to save up the cash themselves by pulling off a heist or exchanging real-world currency for in-game currency.
Since launching, Grand Theft Auto 5 has broken 7 world records including one for selling the most units of any video game in 24 hours.