Grant Writing with a Tablet PC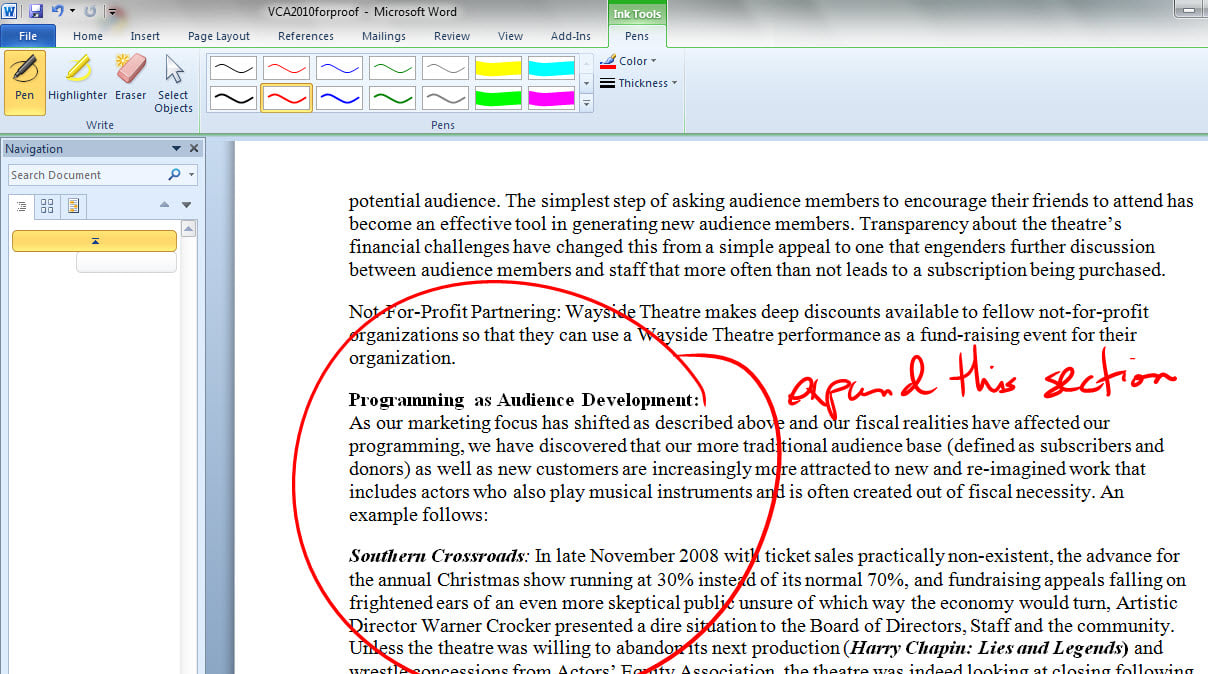 I've been more absent than I would like from the pages here at GBM in this last week because I and my staff at Wayside Theatre have been heads down working on a grant application to the Virginia Commission for the Arts that is due on Monday. Each year arts organizations across the country prepare this and similar grants as we search for funds to support the programs we offer.
We've spent about 160 hours on this application so far and we are just about done and prepared to submit it. Virginia only requires certain organizations to submit a full grant application every few years or so and we've been lucky the last several years only being required to submit the short form. This year it was our turn to do the long form. Given the difficult financial times we've all been experiencing that is both a positive and a negative. The positive is that we've got a story to tell about how we've survived to this point. The negative is that the long from proposal requires us to be as concise as possible to fit within a page limit. Every word, and every description becomes crucial and editing out important info we would like to include becomes an exercise in both re-writing and important judgment calls. . It is a tedious process made all the more so by other considerations that I'll describe in a side note at the end of this post.
The process begins by reviewing our programs and financials for the last two seasons to see what story they tell. Then various staff members are given assignments to create narrative and provide data to be considered for inclusion. In my role as the Executive Director, I gather all of this information in a large outline that I create on a Tablet PC in MindManager. Our story eventually unfolds before us.  It isn't much different than what we believed it to be when we started, but our thinking has to be backed up with data. As various members of our staff submit sections of the application it again all comes to me to be strung together in final form. This frequently requires more revisions. I've been using a Tablet PC to mark up and make corrections along the way.
Once drafts began accumulating we used shared folders on Dropbox to further the revision process. My revision requests would be marked up using the Inking Tools in Microsoft Word and then parceled back out for further work to be done.
Did a Tablet PC make this easier? My answer is obviously yes. For some of my colleagues who don't have a Tablet PC that did a major proofing round this morning their edits or corrections would come back to me with Word's markup tools, but not in Ink. It is so much simpler to just draw a circle around a passage or highlight a passage with the pen. I find i it is also easier to enter comments this way as well. And then there's that intangible get away from my desk thing. Being able to get away from the desk and do proofing and markup just about anywhere (yes there was some stall surfing involved) has been not only a boon to productivity, but an aid to my focus on the process. Knowing I don't have to sit at my desk to edit another round of proofs is more than just a relief, it actually make the tediousness of the job disappear a bit.
So, as we've been going back and forth this last I've found myself wishing that I could afford to give each of these employees a Tablet PC to work with for these kind of tasks. We're such a small not-for-profit that many of your employees prefer to use their own personal laptops than the hand me down desktops we have around the office, and sad to say Tablet PCs have not been high on their personal purchase lists. We're about 50/50 Mac and PC here when it comes to personal equipment.
That said, several of them have been following the hype of the iPad and Tablets in general of late, and I've discovered as we've been working so closely this week that several of them have a misconception about Tablets. Or at least the new wave of what is being called a Tablet. Some assume they can do Ink note taking and the kind of mark up that I have been doing. Most think that they'll be able to create documents on these new wave of Tablets and when I tell them they'll being doing so on a virtual keyboard or hooking up an external model, I see disappointment register. We're so small it is tough to draw anything other than anecdotal conclusions from this, but I'd say from what I'm seeing there is still quite a bit of education that needs to occur about the coming promise inherit in The Year of the Tablet.
Sidenote: Concurrent with preparing our grant application for the Virginia Commission for the Arts, we learned that our state legislature has put forth a budget package that would scale the VCA funding by 50% in the coming fiscal year and eliminate it entirely in the next fiscal year. So, while we've been preparing this grant for funding we've also been making phone calls, doing media interviews, and sending countless emails and faxes to supporters and legislators to try and protect the VCA. Talk about weird timing.

This article may contain affiliate links. Click here for more details.