Great Deal on My Favorite Camera: Canon Powershot SD1000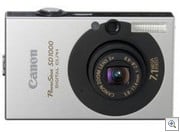 One of the best gadget purchases I've made all year is the Canon Powershot SD1000 Digital Elph Camera. The 7.1MP does great photography and also very good video. I've even shot a couple of GBM InkShows and ShortCuts with it. Small, compact, and sturdy, easy to operate, (I don't think I ever read the manual.) I have to say I haven't been as thoroughly satisfied with a gadget purchase in a long time.
I noticed this morning that Amazon.com now has this on sale for $169.95. And I thought I had a bargin when I picked it up for $219. That's an incredible price for what this camera offers.

As an Amazon Associate I earn from qualifying purchases.