5 Great Fitness Apps for Android
These days there are a million apps on the Google Play Store. Games, social networks, memes, fun apps, videos and more that keep you busy sitting on the couch. On the flip-side, there are also thousands of fitness apps to keep you healthy, in shape, and lose weight. Rather than be a couch potato, use some of these great fitness and weight loss apps outlined below to stay active.
Whether you want to lose weight, do some Yoga, count calories or just generally live a more healthy and active life, these apps can help you do just that. There are tons of apps available, but below we've gathered a list of some of the better options to save you time, and get you started in the right direction.
Read: 5 Fitness iPhone Apps to Replace the Gym
If you love working out and being healthy you probably have a gym membership, but some of these apps and options can actually help users lose weight, get healthy and stay in shape without the gym. Then maybe even cancel that membership completely.
You may not want to replace the gym completely, or even go to the gym at all. Whatever the situation may be, you can benefit from the list of apps we've gathered below. They all work wonderfully on Android devices, and will help make you healthy, keep your weight in check, and much more. Lets get started.
Endomondo
First up has to be Endomondo, which is considered one of the best fitness apps available on the Google Play Store. It will help you track your fitness, count steps while walking or running, find good routes, and even has an audible motivational coach that will tell you to keep going when you slow down.
Endomondo is completely free, but there is an in-app purchase of $2.50 which is a month subscription service. This helps you create a personal training plan, analyze heart rate and track it on the app or a computer, get rid of ads, and tons of other features. – Download Endomondo
7 Minute Workout
Not everyone has the time to spend over an hour heading to the gym, or even 30 minute for a workout at home. Instead, try a rather impressive apps called the 7 Minute Workout. This is a proven scientific workout that does 30 second workout intervals that aren't too easy, but aren't too hard. Then you'll get 10 seconds to rest and get into the next position, and hit the next workout for 30 more seconds. This is something that only takes seven minutes a day and has proven results to lose weight. It hits all cores aspects of the body, all in seven minutes, and will get you breathing hard and slightly sweating, up your heart rate, and get you in shape.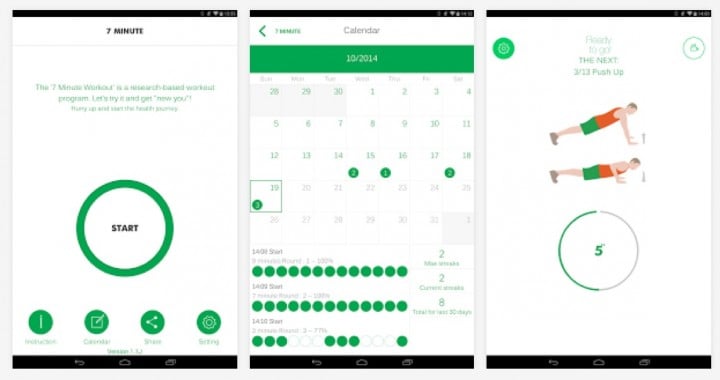 This 7 minute workout application is base on HICT (high intensity circuit training) that was proved the most "safe, effective, and efficient" way to improve your muscular and aerobic fitness and lose weight, and you don't need to go to gym. It has 12 exercises that only take 30 seconds each, and you can complete the entire workout in your living room with no weights required.
They have a built-in video tutorial, whistles that blow, countdown timers when you're close to finishing, and more. There's a calendar to keep track of days you workout, or days you miss, and even daily reminders customized to any time of the day to remind you to spend seven minutes off Facebook, and working out to be more healthy. I've been using it for over a month, and love it. – Download 7 Minute Workout
MyFitnessPal Calorie Counter
If you don't want to hit the gym or workout with the 7 minute app above, but still want to try an be healthy, try any of the thousands of calorie counting apps that will help you keep your food intake in check. One of the most popular is the MyFitnessPal Calorie Counter app.
It's 100% free with no in-app purchases or hidden fee's and is one of the best ways to keep track of everything. With the largest food database by far (over 5,000,000 foods), their amazingly fast and easy to use calorie counter will help you take those extra pounds off.
You can scan barcodes of food to get information while shopping or cooking, and it even has a recipe importer that will take in your entire meal and track the calories for you. It's one of the most popular counters for a reason, and it's free, so give it a try today. – Download Calorie Counter
RunKeeper
Similar to Endomondo above, RunKeeper is another extremely popular app for Android and iOS, and with good reason. However, this app is aimed at all those runners out there, instead of calories or those wanting to hit the gym. If you love to run, you need this app.
Users can control their music through the app during a workout, track walking, cycling and more in addition to running. Then you can view stats and progress reports and even get audio coaching as you go to keep you motivated. Keep running, keep running. Then of course it will let you share routes, progress, and fitness goals on Facebook, as you've probably seen before.
Track your pace, measure workout distance, chart weight loss, and get from the couch to a 5k run all with this app. Give it a try today. – Download RunKeeper
Pocket Yoga
Yes, contrary to what you may have heard in the past, Yoga is a great way to stay in shape or be healthy, and generally help with weight loss. And while you won't find me in a steaming hot room sweating my face off while doing Yoga, to each his own, many love Yoga. Whether you're new to Yoga or have done it in the past, this pocket companion is perfect.
There are over 200 poses along with animations and voice instructions to keep you going, motivation, and of course tools to track your Yoga, create workouts with and vary your poses and more. You can choose between three different practices, three different difficulty levels and three different durations. A total of 27 sessions and over 200 poses. Perfect right? This one also lets you control your on-device music through the app, and much more. However, it isn't free and costs $2.99. – Download Pocket Yoga
Conclusion
While we've outlined five or so excellent and very different options above, there are tons and tons of different apps or choices available from the Google Play Store. These days fitness is a growing concern with everyone using mobile devices, and even companies like Samsung have built heart rate monitors and more into their devices. There are a lot of ways to lose weight, and all of these apps can help you do it.
Apps like Google Fit, Strava, Runtastic, Progression, Run Zombies, Nike+ Training Club, Noom Weight Loss Coach, SleepBot and Instant Heart Rate Pro are all worthy mentions that didn't make our list, but are excellent options you can check out. Then of course there are a wide array of fitness apps for bands like the Nike Fuelband, Fitbit, Android Wear watches and more. Everyone has different needs, wants, preferences or goals, so head to the Google Play Store and find what's right for you.