Griffin 20 Airport Express Amplifier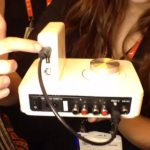 Griffin reps teased the Griffin 20 Airport Express amplifier at the CES Unveiled 2012 preview event. The device allows users to stream music via Airplay wirelessly with their existing speakers. Griffin isn't proving any pricing or availability details quite yet and will not show the Griffin 20 at its booth on the CES floor.
The Griffin 20 comes with an optical audio cable to connect to he Airport Express.  The back of the device has RCA jacks for left/right speakers and a passive sub output. The top of the device has a large volume dial. The Griffin 20 can pump out up to 25 watts of power to the speakers.
The Griffin 20 will work with any current Mac or iOS device.
The Airport Express is Apple's most affordable wireless router. While it doesn't pack all the features found in the Airport Express or Time Capsule routers, many users prefer the Airport Express because it is compact and the audio streaming features. Many Apple fans use the Airport Express to extend their wireless networks, which otherwise don't cover every room in the house.
While the Griffin 20 is a novel idea, most average users would be better suited buying a decent Airplay enabled speaker if they don't already have a spare Airport Express.

This article may contain affiliate links. Click here for more details.