Griffin GuitarConnect Pro Review: Record Your Jams with Ease
The Griffin GuitarConnect Pro interfaces with your Guitar and your iPad or iPhone so you can record your music easily using apps like Apple's GarageBand.
My son Daniel, who's learning to play guitar, helped me test it out and he loved it. When he gets as good as Jimi Hendrix, I'm sure he'll steal my iPad to compose and record the next big hit.
[See our GarageBand overview from last year when it arrived along with the iPad 2.]
Daniel's a beginner learning the play the guitar. Using the Xbox game Rocksmith, he's playing simple tunes. When I showed him the Griffin GuitarConnect Pro the geek musician inside showed itself in a huge grin.
His excitement grew as he used it, testing out the many amps included in GarageBand. He uses a little amp his grandparents gave him for Christmas last year. It's cheaper than a $500 iPad, but for those who already have one, this solution might replace the need for a small entry-level amp.
Pros

Good weight so doesn't move around while playing
Great value for consumer recording
Small footprint makes it mobile
Simple to hookup and use

Cons
The Guitar Connect Pro fits in a guitar case or your pocket. It doesn't take up a lot of space. Despite the size it won't slide around on a table thanks to some added weight and the non-skid bottom, which helps keep it in place as you play. If you get too excited as you play, you can pull it off the table easily. Just play normally and you'll have no problems.
Once you connect your quarter-inch plug from your electric guitar or acoustic guitar with pickups into the GuitarConnect Pro and then plug the dock connector into the iPad, you can play or record using GarageBand. GarageBand for the iPad or iPhone offers plenty of options for different virtual amps that change the sound of your guitar. I could see someone using this instead of an amp like my son's so long as the person plugs their iOS device into a stereo or AV system so that other people can hear. Pros won't use it but its a great solution for the average player who just wants to play music at a party or with some friends.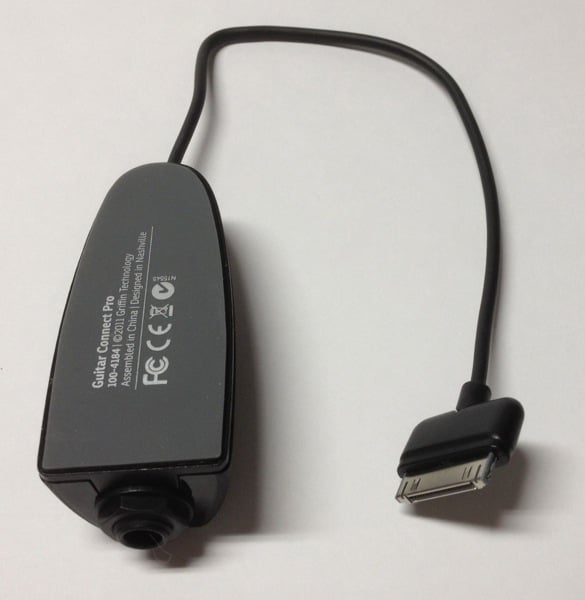 It works with other instruments too. A keyboard with a quarter-inch output connection would work. Other acoustic instruments outfitted with pickups and a quarter-inch jack will work too.
On the side of the GuitarConnect Pro you'll see the gain dial. The player can easily control the volume going to the iPad through the GuitarConnect Pro. Trying to raise the volume on your iPad during a song might not work easily, so the dial helps.
The device works with all three iPads and the iPhone 4 or 4S. They don't list the iPod Touch and I didn't test it, so I can't tell if it works.
You can buy the Griffin GuitarConnect Pro directly from Griffin or Amazon for about $80. That may seem steep for a small accessory like this, but compared to a cheap amp and the tools you'd need to record, you're getting a great deal so long as you already have an iPad or iPhone. Add GarageBand and you have a really good consumer quality recording studio for your guitar.

As an Amazon Associate I earn from qualifying purchases.