iTrip Clip Lets You Use Favorite Headphones With iPhone 7
The iPhone 7 will not include a headphone jack that allows you to plug-in your favorite headphones according to reports. This will also prevent you from plugging your iPhone 7 into a car auxiliary jack. Griffin is ready with the answer to this problem weeks ahead of the iPhone 7 release date.
The new Griffin iTrip Clip is a Bluetooth audio adapter that lets you plug-in any headphones and make them work wirelessly. You can also plug this into a car to add Bluetooth to your stereo without an expensive or time-consuming upgrade.
For $19.99 you can use your favorite headphones with the iPhone 7 even if it has no headphone jack.
With the Griffin iTrip Clip, users can plug in any 3.5mm headphone jack and then connect it wirelessly to any Bluetooth device. The major appeal is for the iPhone 7 which rumor suggest is coming without a headphone jack and for the Moto Z which has no headphone jack — but it's also something you can use to cut the wires for your iPad or to connect to an Apple TV.
Griffin doesn't mention the iPhone 7 in their announcement of this device yet, but it's clearly why the iTrip Clip is arriving when it is.
"iTrip Clip ensures users can continue using their favorite 3.5mm headphones, with no worries about if their new smartphone eliminated the headphone jack," said Andrew Biddle, Category Manager of Power at Griffin. "Not only can our iTrip Clip make any pair of headphones wireless, it also puts the convenience of a Bluetooth sound system into any car."
The iTrip Clip connects with Bluetooth 4.1 and allows you to listen to music, watch movies and make phone calls without a direct wired connection to the iPhone or Bluetooth device. Users are still plugged in to the adapter, but it can clip on a collar or waistband to free them up from the device or clip to your car.
Controls on the iTrip Clip allow users to play, pause, control volume and answer calls. There's also one button access to Siri and Google Now.
This small adapter includes a lithium ion battery that recharges via MicroUSB. Griffin promises 6 hours of playback and 180 hours of standby. This includes a range of 30 feet, so you will need to be near your device for this to work.
The iTrip Clip is coming in September for $19.99 on Griffin.
9 iPhone 7 Features We Want in 2016
Waterproof iPhone 7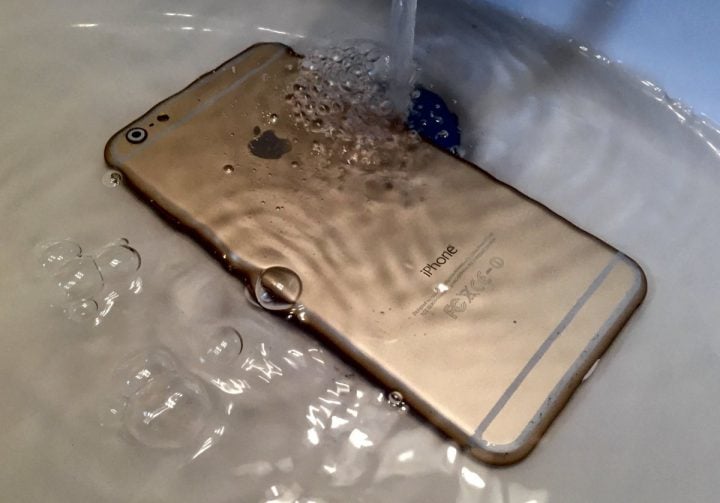 Apple upgraded the iPhone 6s design to make it withstand water better than the iPhone 6, and there are several Apple patents focused on delivering an iPhone that survives in water, which gives us some hope for a waterproof iPhone 7.
With a new design Apple may be able to incorporate a water-resistant iPhone 7 design into a production model allowing users to not worry about using the iPhone near water.
If Apple is able to deliver this, it would likely come with caveats such as only providing protection for 30 minutes of submersion for 3-6 feet or less.
The Samsung Galaxy Note 7 is water resistant, working in water including the ability to use the S Pen underwater as demonstrated in the video above.
A report from FastCompany claims that this is a feature Apple will provide with the iPhone 7 by coating the components of the iPhone 7 with a special chemical. We've heard rumors like this before and Apple pulled the feature, so while it is exciting, make sure you check before dropping your iPhone 7 into the water later this year.
The latest iPhone 7 rumors from earlier this year suggest Apple will not deliver a waterproof iPhone 7 this year. This back and forth mirrors what we see with many rumors and we may not know until the fall.