Griffin MultiDock Securely Charges Up to 31 Devices at Once
Griffin's PowerDock 5 may be the best solution for charging up all of your devices at home, but the company just unveiled a similar solution for enterprise use. It's called the MultiDock and it's essentially a series of anodized aluminum boxes that can fit 10 devices each, and they can be closed and locked up for security purposes while you're away from the office.
The MultiDock comes in two configurations; you can buy a single 10-bay MultiDock for $699, or you can go all-out and get the three-unit setup that includes three 10-bay MultiDocks with a separate charging compartment for a laptop for $2,400. It's a bit expensive, but it also includes a wheeled cart that allows you to easily move them to a different location if need be.
The MultiDock uses Griffin's own ChargeSensor technology that allows the device to adapt on the fly with any iOS or Android device by automatically detecting and providing the fastest charging rate available for that device. This means that when you plug in an iPad, the MultiDock will automatically use 2.1A, while plugging in an iPhone or other smaller device will force the MultiDock to use 1.0A.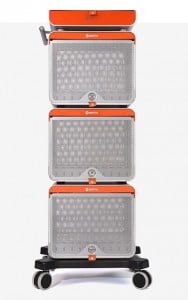 Griffin is targeting the MultiDock at schools and businesses, especially during a time when more and more companies and educational institutes are taking advantage of iPads and other mobile devices. The MultiDock will essentially be what laptop carts were in high school. Plus, the MultiDock can lock up by folding down the steel door and locking it with a key. LED lights are on the outside to show charging and syncing status of the devices inside.
While the MultiDock can technically be used in a household for residential purposes, it's mostly overkill for most families. While it's quite possible, many families usually don't have ten mobile devices that are being used. Plus, the MultiDock is way too expensive for most households to be able to afford. This is where the PowerDock 5 comes into play, with its five bays and lower $99 price tag.
The MultiDock will be available later this month, just in time for the school year and before the busy holiday season for a lot of companies, but be prepared to lay down a lot of cash for the privilege of being able to charge and sync at least 10 devices at once, as well as the ability to keep all locked up from kleptos.