GroovBoard Turns Integrates iPad Stylus and Apple Keyboard
The Apple iPad, a stylus and the Apple Bluetooth keyboard work together to make a nice, small footprint office solution. The GroovBoard helps integrate them into something that feels like a high-end, useful solution.
The GroovBoard ($99 direct) looks attractive and feels sturdy. The heft of the GroovBoard, which weighs 2 pounds, holds the iPad without wobbling. It also keeps the Apple Bluetooth Keyboard in place thanks to the deep groove in the center of the board's top side.
Holes for holding a stylus sit along both sides of the GroovBoard. The groove in back holds the iPad at a perfect angle for comfortable viewing while typing. The middle groove holds the keyboard so it won't move around. Friction from the wood and the rubber pads on the keyboard keep it in place.
The board makes it necessary to type properly, with wrists raised. This feels uncomfortable at first for lazy typists, since the GroovBoard raises the keyboard a full inch off the desk. In that case, just remove the front part of the GroovBoard and place the iPad in the groove closer to the front. Put the keyboard on the desk or table.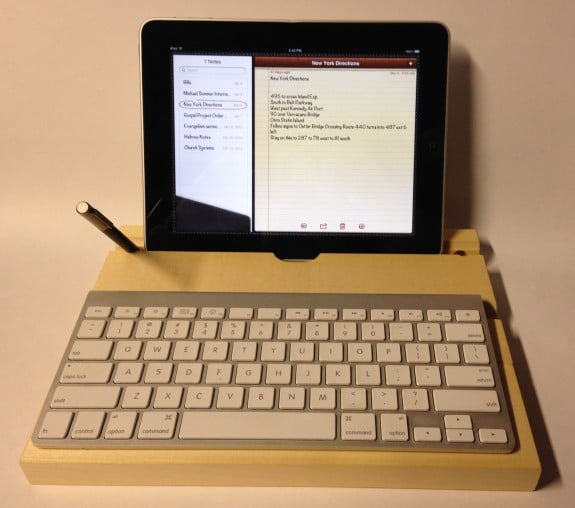 The board comes apart either for storage in smaller compartments of a bag, or to use while laying down. Two metal pins and four very strong magnets hold the two pieces together. The owner will need to use force to separate them.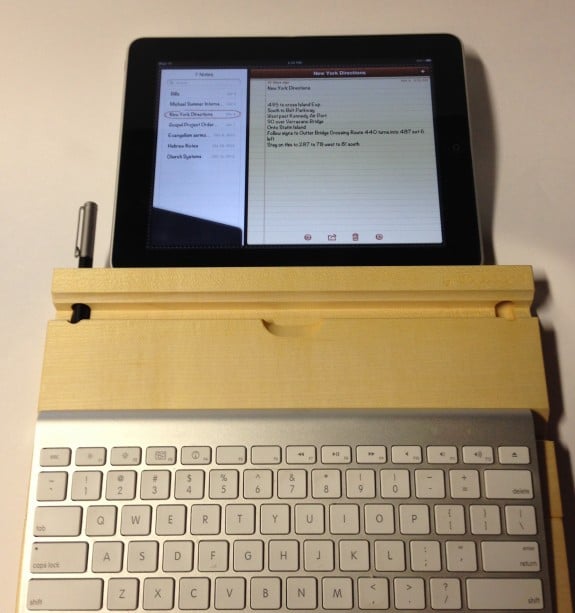 A third groove along the back edge lets a user place their iPad in it while laying in bed with their feet propped up. Put the board and keyboard on the lap and the iPad in the groove for some nighttime typing.
The company includes a nice carrying bag and easy to follow instructions for use, care and cleaning. They also give buyers three coupons for $5 off to give away to others. The first three readers to ask for a coupon code via the comments below will get ours.
We see the GroovBoard as a home workstation setup. Users can take it outside with them, but the usefulness of the board doesn't justify the extra weight. We like the way it looks on the desk next to a monitor and laptop in a home office. Students will find it useful too as their primary tool in the dorm to make a nice iPad based workstation. People with simple needs can replace a computer with these accessories.
The GroovBoard comes in nine attractive wood grains. We tested the Maple. They also offer others as seen in the picture above.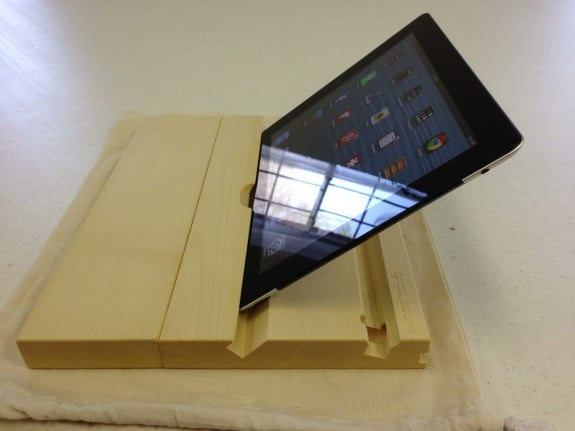 GroovBoard charges $99 for each, which seems about right given the quality craftsmanship and attention to detail. At that price the GroovBoard fits the "luxury" category.

As an Amazon Associate I earn from qualifying purchases.