GSM Droid DNA Now Called HTC Butterfly
It looks like the GSM version of the HTC Droid DNA (Verizon) will be called the HTC Butterfly. The smartphone-maker had quietly announced the HTC Butterfly via a landing page on its website, and the device bears identical design to its Verizon sibling as well as share the same high-end specs as the HTC J Butterfly, a phone that is Japan-specific.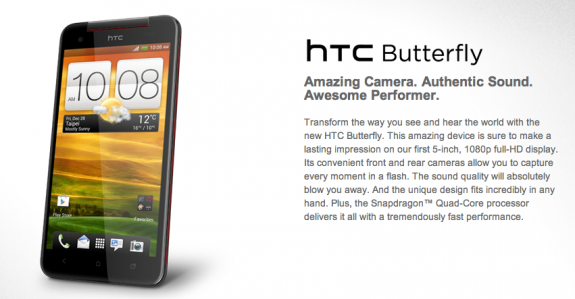 Like the HTC Droid DNA, the HTC Butterfly will feature a full 1080p HD resolution 5-inch display, quad-core Snapdragon S4 processing power, Beats Audio, and two great cameras.
According to the specs listed, the HTC Butterfly will feature a dual-band HSPA+ radio and the device lacks the 4G LTE modem that the Droid DNA possesses.
And despite having a large 5-inch display, the HTC Droid DNA, and by proxy the HTC Butterfly, has a relatively small footprint. The overall size of the device is only slightly larger than the HTC One X.
News of the HTC Butterfly branding was revealed by Twitter leaker @evleaks. 

As an Amazon Associate I earn from qualifying purchases.