GTA 5 Executives and Other Criminals Update: What's Inside
Video game developer Rockstar Games finds itself in an interesting situation this year. Technically, the company hasn't released a major new game in years. Its last release was in 2013 and specifically for the Xbox 360 and PS3, two consoles that are now in the process of being relegated to the dust bin. For most studios, a drought that long would be cause for concern. Rockstar has nothing to worry about though, the game that it released in 2013 was Grand Theft Auto 5, more often referred to simply as GTA 5.
Late last week Rockstar unveiled a surprise for players of the GTA Online multiplayer comes packaged with every copy of GTA 5. Out of nowhere, an update arriving today for Xbox One and PS4 players promises to make GTA 5, relevant this holiday season, even as it faces off against the likes of Halo 5: Guardians and Call of Duty Black Ops 3. It'll do so with a new layer of interaction and one huge new vehicle.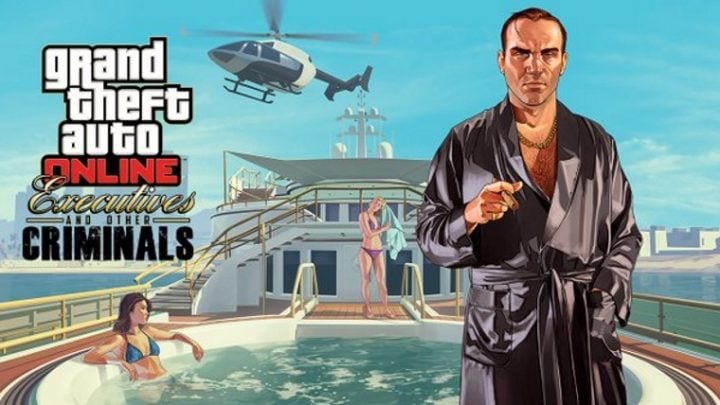 Here's what you need to know about the Executives and Other Criminals update for GTA 5's GTA Online.
GTA Online Executives & Other Criminals: Organizations
Since the introduction of GTA Online players have been able to form alliances in the game's modes and through communities. Outside of Heists, there's never been a way for a GTA Online player to become a certified boss, complete with hiring power, firing power and the ability to dispense orders. Executives & Other Criminals changes that.
Heists allow players to create their own small team of master thieves and thugs, but Organizations are completely different. Those with a big enough bank account can become VIPs, with the ability to create their own criminal Organizations and recruit other people to their cause. Anyone who has amassed at least 1 million in-game cash in their bank account can become a VIP and create their own Organization.
VIPS can hire three other players to serve as their security team. Members of a security team get regular payments from the VIPs that they protect. Hiring and firing for VIPs is available directly through the new SecuroServe app on VIPs' smartphones. Besides in-game cash, VIPs also supply their team with weapons and the vehicles that they need to keep them safe.
Security hires make $5,000 in in-game cash and get RP bonuses and challenges within GTA Online's Freemode. The catch is that all the money member's of a security team earn go straight back to the VIP. Rockstar says that this includes, robberies and bounties on individuals within Freemode. When body guards are near their VIPs, they get stats bonuses and their health regenerates faster than it would in other situations.
GTA Online Executives & Other Criminals: New Vehicles
Strangely, Rockstar is showing with restraint when it comes to adding new vehicles in the Executives & Other Criminals update. It's sticking to some main additions, all of which are incredibly lethal.
First there's the new Turreted Limo. Rockstar is hoping that VIPs will pick up the new ride for their organizations. Not only is it armored, it has a chain gun out the back in case VIPs need to deal some damage while they're escaping. There are 10 new cars for sale. Six of those are for executives and their crew. Joining these new vehicles are two stylish helicopters.
Anyone really looking to be stylish doesn't need these vehicles. Instead, there's the new Super Yacht. This vehicle is huge and basically acts as a movable floating apartment within GTA Online. Players can dock the Yacht at a few different locations around Los Santos. There's a pool, a helipad, a bartender, areas for smaller boats. It comes with its own missile defense system. Players can customize these Super Yacht with their own flag and a few different design options.
Also getting some design options are the three new apartments within Eclipse Towers. Previously, apartment purchases didn't allow for any customization. 10 houses within the hills of Los Santos are available for purchase too. Each of these has a 10 car garage and a Heist planning room like the apartments downtown.
Two new weapons, the Heavy Revolver and the Switchblade are included in the GTA 5 Executives and Other Criminals update. New clothing, fit for a boss is included too.
GTA Online Executives & Other Criminals: New Jobs
To put Organizations to the test, Rockstar has created some VIP Challenges. Most Wanted simply puts the cops on a particular organization with a five star rating, the highest that GTA 5 offers. To win, players need to outlast all other members of their organization for 10 minutes. Market Manipulation involves players robbing the different stores around Los Santos for the most money. Auto Buyout tests player's ability to steal cars and not get caught. The player that has the most cars at the end of the VIP Challenge wins. Executive Deathmatch seems like it's the most interesting. Each VIP gets ten lives as their organization tries to protect them and murder their rivals.
Extraction is a new Adversary Mode that has bodyguards rushing to safely get VIPs out of dangerous situations.
The GTA Online Executives & Other Criminals update is available on Xbox One and PS4 now as a title update. This means that users with background updates enabled on their console should get the update installed automatically. Xbox One and PS4 users who have configured their console to turn itself completely off will get a notice asking them to update the game the next time they open it.

As an Amazon Associate I earn from qualifying purchases.