GTA 5 for Xbox One & PS4 Getting Rockstar Editor & More
It was only last month that video game developer Rockstar released its most fully featured version of the open world GTA 5 for PC. Now it looks like the Xbox One and PS4 versions of GTA 5 are due for some changes. In a recent post Rockstar reveals that it has plans for more downloadable content, a new radio station and the addition of the famed Rockstar Editor for the versions of GTA 5 available on current generation consoles.
Rockstar didn't make any formal announcements about coming updates or downloadable content this week. Instead, it choose to highlight what is coming down the road in a short question and answer sessions on its website with fans. It's in the answers to those questions that we learn more about the developer's future GTA 5 plans.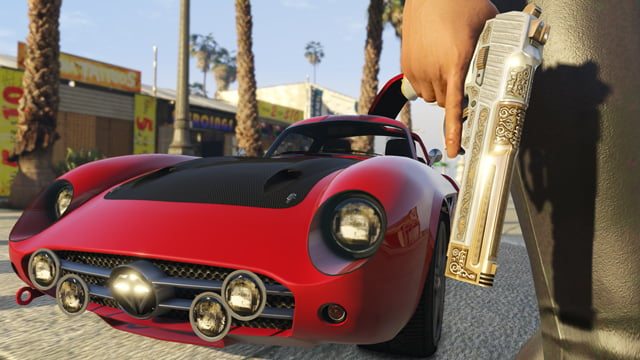 Responding to questions about The Lab radio station and the Rockstar Editor not being widely available on other anything besides the GTA 5 for PC, Rockstar confirms that it has plans to add The Lab radio station to the Xbox One, Xbox 360, PS3 and PS4 versions of GTA 5. As for the Rockstar Editor, the developer says it has plans to make that feature available to PS4 and Xbox One owners over the summer, but no plans to bring it to the Xbox 360 and PS3 since it involves a lot more processing power than what those machines can provide. The Rockstar Editor is a digital movie making tool that allows users to stitch together highlights and productions from inside the game.
As far as content updates are concerned, Rockstar has a bit of new information there too. According to this week's question and answer session, new cars and things to spend money on are coming to GTA 5's GTA Online sometime soon. Included in this week's question and answer session is a single screenshot of new and expensive looking car coming to for GTA Online players with a bit too much in-game cash in their bank accounts.
Unfortunately, the news isn't great for everyone. Rockstar says that it's only now investigating the idea of joystick controls for GTA 5 for PC. It also says that it doesn't plan on banning users who make modifications to the PC version of GTA 5 for PC. That being said, it's taking a harder stance on GTA Online since it has it's a wider experience to consider. In the spirit of fair play, it's also warning YouTube community members to not post videos about getting in-game currency or experience points by cheating. According to the developer, videos that it finds on YouTube that do show people how to game the online experience could get flagged.
Rockstar appears to be at the end of its rope with GTA Online updates for the Xbox 360 and PS3 too, which is unfortunate. Speaking about future updates, Rockstar says that it has every intention of its next big game update coming to those consoles, but future updates are on a case by case basis, it seems. With every update, the developer gets closer and closer to maxing out the power and processing that the Xbox 360 and PS3 can provide.
All told, with GTA 5 finally available on every major platform and Online Heists released, Rockstar seems to be slowly returning to its regular cadence of releases and updates for GTA Online and GTA 5. Before slowing down to work on new releases, Rockstar kept a steady stream of new cars, weapons, missions, bug fixes and property updates coming for users. All past content updates have been free, only limited by the amount of experience and cash a player has in the game.
GTA 5 for the Xbox 360 and PS3 is now $29.99 at Amazon. The Xbox One and PS4 versions of the game still cost a $60.

As an Amazon Associate I earn from qualifying purchases.