GTA 5 Online Heists Are Officially Delayed
GTA 5 developer Rockstar Games, has confirmed that online Heists it told users to expect this spring, have officially been delayed.
Rockstar announced the delay of Heists content in the comments for another update that it did manage to release on time yesterday: the I'm Not a Hipster update for Xbox 360 and PS3 users who purchased last year's version of the game.
Gotta Be Mobile first shared news about the new Heists game mechanic back in April. As a blog post by the company explained then, Heists are meant to be a way for GTA 5 players to partner up with their friends and family to cooperate on missions made by Rockstar itself. Completing these Heists successfully in GTA Online, that is the multiplayer version of the game that comes included in every copy of GTA 5, earns players more in-game cash to spend on cars, apartments and new weaponry.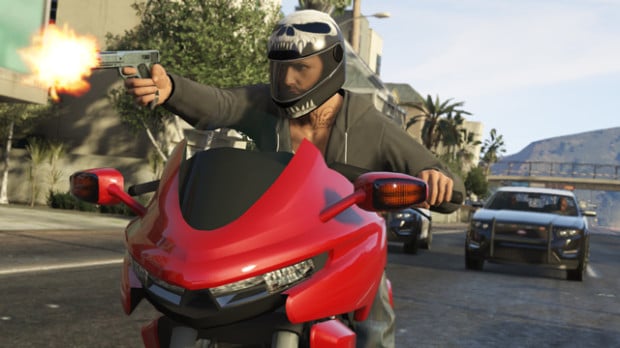 Read: GTA 5 Spring Updates Promote Robbery & The High Life
The apology posted by Rockstar today doesn't share any information about a potential release date for Heists content. As such, a content update containing the Heists the developer showed off earlier this year could come at absolutely any time. That being said, Rockstar's decision to issue an apology to users indicates that PS3 and Xbox 360 GTA 5 players probably shouldn't expect Heists to arrive in the near future.
GTA 5 players aren't getting Heists yet, but that doesn't mean that there's a lack of new content in Grand Theft Auto. A lot of the content that Rockstar discussed publicly has already made it into the game. As or right now new clothes, weapons and vehicles are trickling out to users inside that aforementioned I'm Not a Hipster update.
Heists is delayed but it looks like Rockstar has plans to keep more GTA Online content coming with the company saying "you [users] asking about other upcoming GTA Online updates, we have lots more in store coming your [users] way soon." It's entirely possibly – even likely – that the developer is hinting at even more cars, weapons and clothing for users to customize their character with.
Unfortunately, whether we'll see any more story related content remains a complete mystery. Rockstar has added tons of new content to Grand Theft Auto Online. That being said, story related content – free or paid – has been light since the game's release last September.
That's unfortunate because many who've played Grand Theft Auto 5 would say that it was the game's single player campaign that made it a must-buy title. In GTA 5, Xbox 360 and PS3 users play as three different characters. First there's Michael, a retired bank robber who should be keeping a low profile in the Witness Protection Program. Then there's Trevor, a deranged lunatic who worked with Michael on a past job. Trevor goes to find Michael after he realizes that he's still alive. Finally, there's Franklin, a guy who has just been fired. Michael sees a bit of himself in Franklin and tries to team him how to go about earning money as a member of a higher class group of criminals. Users switch between each one of these players, giving them three unique perspectives on each criminal job they pull off.
Today, Xbox One and PS4 players might not have had the opportunity to experience GTA 5's story for themselves. There's no version of the game on either of those consoles yet. That being said, Rockstar has officially announced that it has plans to remedy that situation this fall with an upgraded version of GTA 5 for the Xbox One and Xbox 360. When that version arrives it'll cost users $60. That is exactly the same amount that users paid for last year's version of the game. Unfortunately, there's still no official release date.

This article may contain affiliate links. Click here for more details.