GTA 5 Reportedly Coming to PC Early Next Year
It's reported that Grand Theft Auto 5 will launch on PC sometime early next year, according to Eurogamer. Speculation about a PC release for the new game has been at an all-time high ever since the game released last month for the Xbox 360 and PlayStation 3.
According to Eurogamer,  "multiple industry sources" have said that Rockstar's latest title is planned for a PC launch sometime in the first quarter of 2014. It's said that these plans will be similar to the release schedule for Grand Theft Auto 4, which released in April of 2008 on consoles and eventually hit PC in December, which was eight months later. Using that same timeline, Grand Theft Auto 5 won't hit the PC until May, but it seems Rockstar wants to shorten that gap with this latest title.
Of course, Rockstar has also yet to announce availability for next-generation consoles — the Xbox 360 and PlayStation 4. We already know the release dates of both consoles, but Rockstar isn't offering any details as far as when we should expect the game to hit next-gen systems. Then again, other big developers are keeping mum as well, for the time being.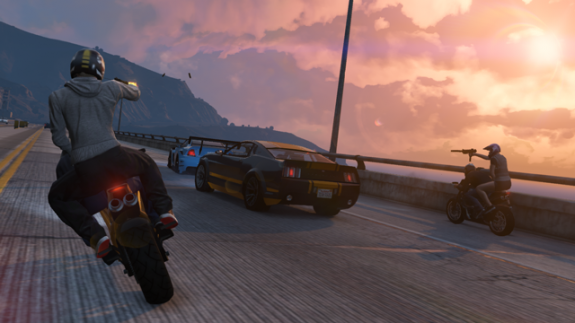 A PC version of the game has been highly demanded, and petitions have already been started to demand that Rockstar release a PC version of Grand Theft Auto 5. Frankly, we're not sure what the big fuss is about, since we would be quite surprised if Rockstar didn't release the game on PC, but we digress.
One particular petition on Change.org has almost 600,000 signatures, and it demands that Rockstar release a PC version of the game, and by not releasing such a version, Rockstar would be making "a mistake." We're surprised these petitions have so many signatures, but we're not surprised by how many people really want a PC version of Grand Theft Auto 5.
However, we never really doubted that Rockstar would bring the new game to the PC. The same speculation flew around back in 2008 with Grand Theft Auto 4, where the PC version didn't release until eight months later. When the console version first released, many PC gamers were understandably upset. The same thing is simply happening this year again.

As an Amazon Associate I earn from qualifying purchases.