GTA 5 Spring Updates Promote Robbery & The High Life
Pulling off robberies, hoarding fast cars and creating custom levels for other users to do both will feel very different for GTA 5 players thanks to upcoming spring updates.
GTA 5 developer Rockstar Games announced a host of new features coming to GTA Online, the game's online multiplayer arena, earlier this week.
Following one of the updates, GTA 5 players will be able to create what Rockstar calls Capture Jobs. Essentially, players will be able to use the game's custom level creator to plan out and distribute jobs in which other players are tasked with capturing specific targets successfully.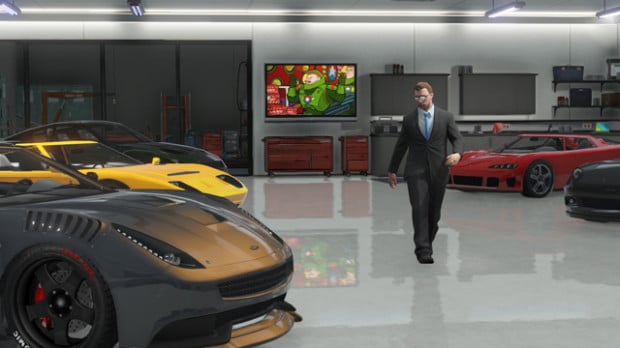 It's also planning to upgrade the rewardables that players spend in-game currency on. Players can expect an updated line-up of new cars, motorcycles and clothes to debut with this update. From then on players will be able to own multiple properties in the GTA Online sandbox. A new slate of jobs, missions that players go on to earn that in-game currency, will also be introduced with this update.
Rockstar plans to add cooperative heists so that GTA 5 players can earn in-game cash with their friends later this spring. It also has plans for some "holiday-themed updates" and downloadable content for users who appreciated the game's story mode more than its online multiplayer.
Updates between now and the time that DLC arrives will include, GTA Online players being able to call in a favor and have the game's law enforcement officers pretend that the player isn't committing a crime. There's also plans to reward gamers who leave feedback on the jobs of others. Rockstar will also boost the amount of money users get when they successfully finish parachute missions, races and death matches.  There's also a host of fixes including a change that will make it easy to pull off stunts on vehicles again and cracking down on cheaters.
All told, it sounds like calendar 2014 will be just as fun and fresh for gamers as 2013 one was for GTA 5 players. GTA 5 arrived on the Xbox 360 and PS3 back in September with blockbuster sales and high review scores. Users play as three different characters as they pull off an increasingly dangerous jobs in the game's story mode. They can also recreate themselves and play alongside other gamers in GTA Online, which is included with the game free of charge.

This article may contain affiliate links. Click here for more details.