GTA 5's GTA Online Ill-Gotten Gains Event Revealed
There's more details about a weekend-long multiplayer event for players to digest as they wait for the Ill-Gotten Gains release over the next few hours. Video game developer Rockstar Games is promising deep discounts on properties and more during the massive event.
Rockstar fully detailed the Ill-Gotten Gains Event yesterday on Rockstar Newswire, and it's fair to say that the promotion is going to be the must-have GTA Online event of the summer. GTA Online is the dedicated multiplayer experience included in GTA 5 for the Xbox One, Xbox 360, PS3, PC and PS4.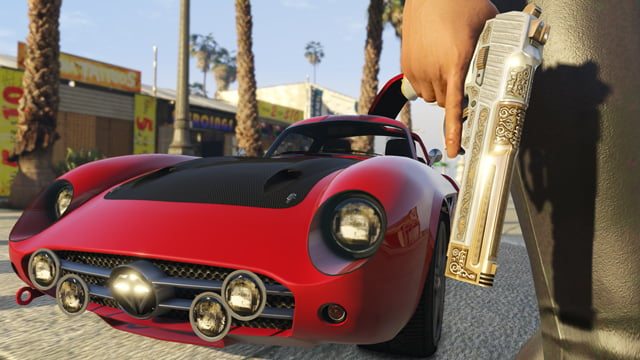 From June 12th to June 14th Rockstar will slash the prices of all high-end properties in the GTA 5 multiplayer experience. The developer says that the properties will get a blanket discount of 25% of their normal purchase price. In GTA Online players purchase different hideouts, garages and safe houses to house their character, take showers, browse the internet safely and plan out heist missions.
The Ill-Gotten Gains Event festivities extend far beyond just property discounts though. Very little in GTA 5's GTA Online is free. To earn enough cash to buy weapons, cars and accessories players have to complete different jobs around the state of Los Santos. Rockstar wants to highlight the new Adversary Mode it launched as the same time as Online Heists and it's using the Ill-Gotten Gains Event to do it. For one weekend only Rockstar is doubling the amount of in-game cash that players earn from participating in Adversary Mode. Sticking around gets players a nice batch of extra explosives and body armor.
Read: GTA 5's GTA Online Gets Ill-Gotten Gains Release Date
Being successful in GTA Online also requires that users commit to building their RP. The more RP, the more quickly you level and unlock new experiences. For example, getting a free parachute isn't even something you can get until you've leveled-up your character for a bit. The Ill-Gotten Gains Event helps with that too, giving users double RP for all races in the multiplayer experiences.
Rockstar plans to randomly drop gear in GTA Online near the racetrack, yacht club and Rockford Hills neighborhood. This gear will include $10 in cash, t-shirts specifically made for the event and knock-off t-shirts of designer items already available in the game.
Most of these extras should happen on the fly. Taking advantage of the cash bonuses in Adversary Mode requires that users choose Event in the GTA 5 loading screen. Rocksteady is also hosting an in-game picture contest. The winner will have taken the best picture using the in-game camera on their smartphone and submitted it to Rockstar as part of the content. There's another $1 million in in-game cash to earn through the contest. There's a Rockstar Social Club sweepstakes going too, only it grants users nice real-world gear instead of in-game cash and prizes.
The Ill-Gotten Gains Update that this event is meant to honor is available on all platforms today. With the updates users get new vehicle wraps to deck out their vehicles, new gold painted aircraft to show off how ridiculously wealthy their character. There are racks of new clothes to purchase and even a new gold-plated firearm to defend your character with, called the PDW or Personal Defense Weapon.
Xbox One and PS4 buyers also get what Rockstar is describing as the new First Person Vehicle Hood Cam. That camera was already available in the Windows PC version of the game. Unfortunately, Xbox 360 and PS3 users can switch camera angles in those games and won't get this new camera angle.
As with all updates, the Ill-Gotten Games update is completely free for all players with an internet connection. Despite being a separate title, you need GTA 5 to play GTA Online.

As an Amazon Associate I earn from qualifying purchases.