GTA Online Halloween Event: Everything That You Need to Know
By now, video game developer Rockstar Games is accustomed to players of its GTA Online RPG flooding the game's servers every holiday looking for a thrill, and once again, it's perfectly fine to oblige. This week the game kicks off what it's calling the GTA Online Halloween Event. Essentially, it's giving users the opportunity to earn some cool things for their in-game character and get spooked at the same time.
Launched in 2013, GTA Online is bundled with every single copy of Grand Theft Auto 5. Whereas the main game is frozen in time so that Rockstar can tell the story of Franklin, Trevor an Michael, GTA Online is all about players. As such, it often changes to reflect what's going on in the real world that players would be privy to. It's offered holiday events for some time. During the holiday season, it snows in the game.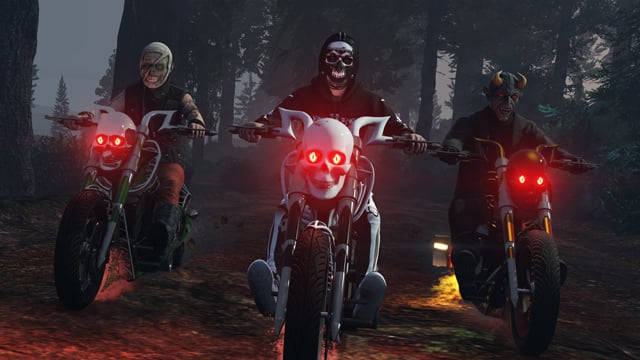 Read: 10 Amazing Things You Can Do in GTA Online
The GTA Halloween Event gives players a big Trick or Treat themed reason to dive back into GTA Online at a time when they might be more inclined to pick up new hits, like Skyrim or Battlefield 1. Here's everything that you need to know about the event.
GTA Online Halloween Event: New Content
The GTA Online Halloween Event is part opportunity for Rockstar to add new content to the game and a content sale. The event kicked off this morning, October 28th.
The new content portion of the update is pretty limited. There's a new Sanctus Motorcycle that gamers can customize with dark ornaments. Those ornaments include a white skull with glowing red eyes. The new vehicle fits with a big content update that GTA Online got earlier this year. It focused exclusively on bikes, letting users create Biker Gangs with their own clash flows, hideouts, missions and operational structure.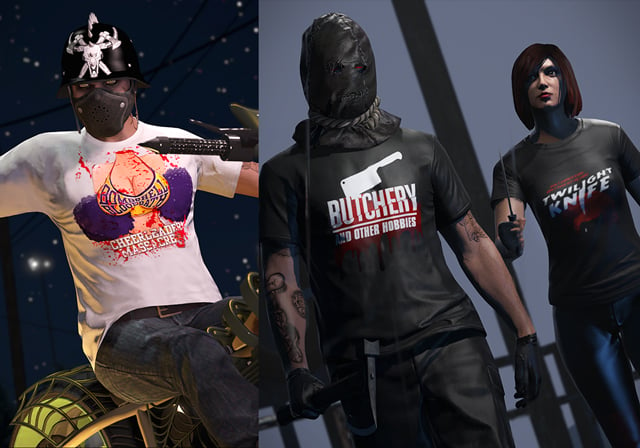 Three free horror themed T-Shirts are available for anyone that simply logs into the game between now and November 7th.
Included in the lineup of new content is the GTA Lost vs Damned Mode. It's also Halloween themed. In the new Versus Mode, players end up on the side of good or evil. An armor advantage shifts to each side, depending on a super accelerated day or night cycle. Darkness, as you might have guessed, benefits the devils for 60 seconds. Good gets a boost in armor, health and better weapons when the sun is out.
Read: GTA Online in 2016: What You Need to Know
As it has with some modes in the past, Rockstar is giving users a really good reason to at least try Lost vs Damned Mode. It's handing out double the in-game cash and reputation for the mode until November 7th. The Slasher, Beast vs Slasher and Come Out to Play Modes are awarding double rewards on just October 31st.
As this isn't the first GTA Online Halloween event, Rockstar already has a pretty extensive list of themed items in the game already. It's adding those back to the game's stores too.
GTA Online Halloween Event: Content Sale
While the GTA Online Halloween Event is happening, Rockstar is holding an anniversary specials sale on some of the most coveted items in the game. Rather than choose a smattering from all over the game, the studio opted to go for sale items released for every major update the game has had. The Aquarius Yacht from Executives and Other Criminals is on sale. So is the Custom Dunk car from the Lowriders & Custom Classics Update. Each item on sale has had its cost slashed by 30 percent. These deals last until November 7th.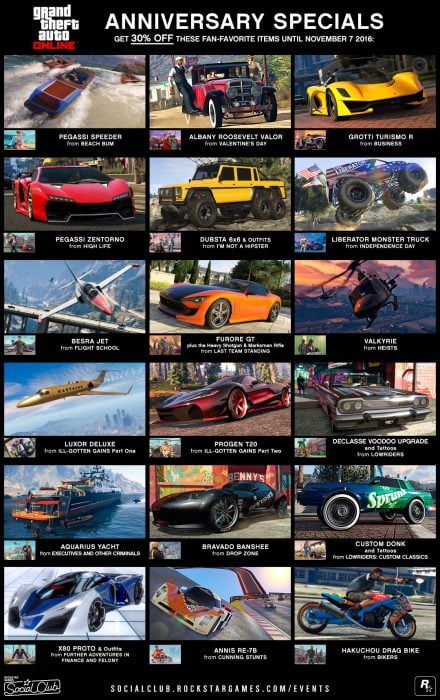 To celebrate the anniversary, Rockstar is also giving users that log into the game between now and November 1st $250,000 in in-game cash for doing nothing at all. The currency can go towards one of these discounted items or anything else that players want.

As an Amazon Associate I earn from qualifying purchases.