GTA: San Andreas Finally Arrives on Windows Phone
It took a bit of extra time but now users of devices with Microsoft's Windows Phone operating system installed can also commit robberies and amass wealth in the criminal underworld in GTA: San Andreas.
Like it's iOS and Android counterparts, GTA: San Andreas for Windows Phone allows user to run around the fictional city of San Andreas and build what amounts to a criminal empire. Originally, the game launched on Microsoft's Xbox and Sony's PS2, however Rockstar Games announced that it would be reviving the game with new graphics and updated game play for each major smartphone  platform.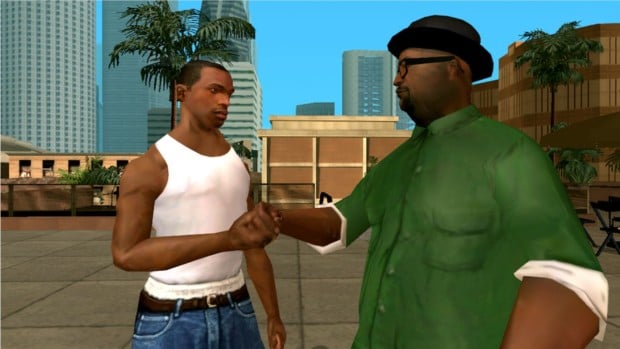 Rockstar also announced that each version of the game would support external controllers, making it a pretty exciting release for anyone who didn't get the chance to experience the game the first time. While users can pair their device with an external game controller and get much of the same experience they would have gotten with the original Grand Theft Auto: San Andreas, Rockstar has also reworked the game's controls so that users can play it with just a touch screen comfortably.
GTA: San Andreas is the last of the three mobile versions of the game to launch and mirrors the Android and iPhone version's cost at just $6.99.
Read: GTA: San Andreas Arrives on iOS
It's worth noting that GTA: San Andreas for Windows Phone is launching just a month after its counterparts on iOS and Android. While that certainly isn't as great as having launched on the same day, it's still a win for Microsoft's mobile platform. Sometimes Windows Phone users have to wait a year or so before getting games and apps that other mobile users already have.
Unfortunately, the news for Windows Phone users looking to purchase GTA: San Andreas from the Windows Phone Store isn't all good. The game's notes indicate that it's only compatible with the Nokia Lumia 1520, Lumia 1320, Lumia 822, Lumia 810 and the HTC 8XT. However, reports from users indicate that the game also runs on the Nokia Lumia 920. That would suggest that the game only runs on Windows Phones with 1GB of RAM. As such, the game should also run fine on the Lumia 925 and the HTC 8X too.
That also means that users of low-end devices, like the seriously popular Lumia 520, won't be able to run the game. Users should log in to the Windows Phone Store to check compatibility with their device.

As an Amazon Associate I earn from qualifying purchases.