Guide to the Windows 8 Start Screen With a Mouse and Keyboard
If you're new to Windows 8 you've noticed the Start Screen by now. It's that interface that includes fullscreen apps and Live Tiles. Microsoft officially replaced the Start Menu with it because it wanted to create a version of Windows and an app store that was capable of running on tablets, laptops and desktops. It was a bold move, one that should have brought the different form factors that are available to users closer together.
That's not entirely what happened. The interfaces that are available on Windows 8 tablets, laptops and convertibles look almost identical. On the other hand, they're difficult for some new device buyers to use. After all, Windows has worked mostly the same for over twenty years.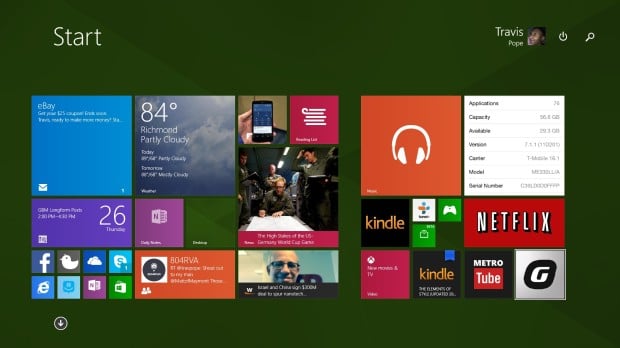 The trick to the Start Screen and Windows 8 are to approach them on their own terms. To master them you'll need to make an honest effort to understand some basic concepts. None are difficult and each try to make the lives of modern Windows users easier. Here's a guide to using the Windows 8 Start Screen with a mouse and keyboard.
Hot Corners
The first concept you'll need to grasp is Hot Corners. Hot Corners are areas where placing your mouse cursor will open different bars if you're using a mouse and keyboard. There are  four Hot Corners in Windows 8, each with their own bar that floats out.
Placing your cursor in the top-left or bottom-left corners will open a multitasking menu. This menu allows you to see what apps are open and get a live view of any Desktop applications you have running, like iTunes and Windows Media Player. Right-clicking on the apps in this bar will allow you to snap them to the side of your screen or close them altogether.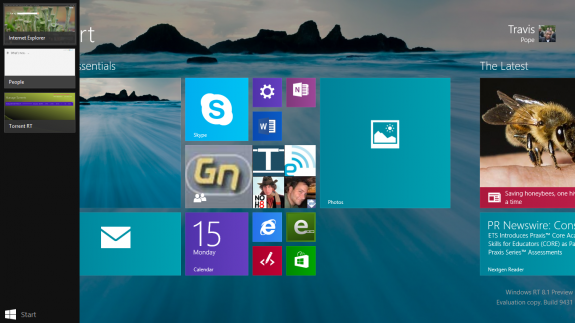 Placing your mouse cursor in the top or bottom corners on the right side of your screen reveals the Charms Bar. It's from here that users can give their PC commands like Print and more. We'll talk more about the Charms Bar a bit later, but the important thing to remember is that the Charms Bar is your go to area for things you like to do with any app you have open.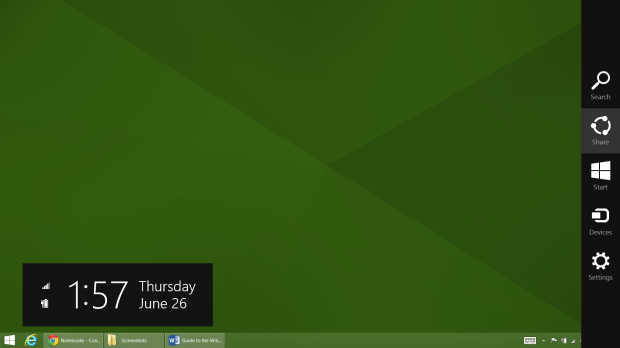 App Bars
The Start Screen and many individual Windows Store apps have a third and fourth bar that float out from the top and bottom edges of the screen. They're called App Bars and in most apps there's no way to tell if they're there. To discover App Bars, right-click in your favorite apps. Most apps have them hidden, but Mail allows you to see the app bar.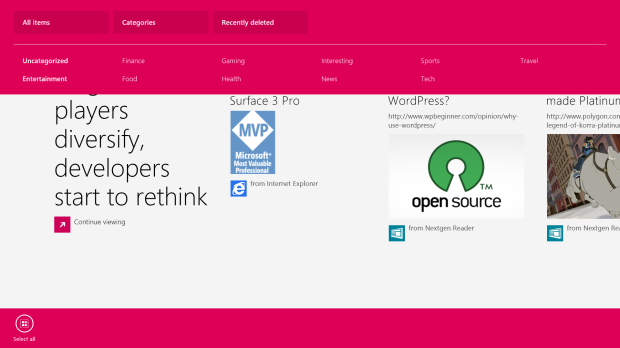 The Charms Bar
Now, back to the Charms Bar. The Charms Bar that floats out from the right side of the screen. The Start Bar organizes things around five different tasks.
Share
First is Search. The Search Charm allows users to look through their computer for different pieces of content. That content can be apps, or documents. Microsoft also added Bing Search so that users can dive into the web and read even more search results. In Windows 8, the Search Charm was contextual, so that pressing it in each app allowed it to search that app. After the free Windows 8.1 update search works the same way wherever you are.
Share
Share allows you to immediately send out links to pictures and status updates through social networks like Twitter or Facebook. In the Start Screen this just means sharing screenshots. In Xbox Music this means sharing online links to your favorite albums and songs directly through social networks and email.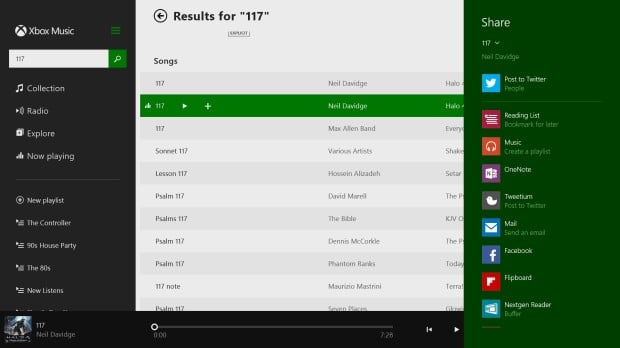 Other apps can share things though the Share Charm. For example, Nextgen Reader allows users to take stories and save them to the Reading List app for them to browse later. If you want to share anything from a Windows Store app, the Share Charm is how you do it.
Start
Start simply takes you back to the Start Screen.
Devices
If you're trying to play something on another screen, pair another monitor or print a document, the Devices Charm is how you do it. The Devices Charm is contextual, so the capabilities it presents to the user are completely based on the application that's open. Video streaming apps like Xbox Video allow users to tap Project and stream things directly to an Xbox One or Xbox 360, for example. You'd also go to the Devices Charm to change whether your paired monitor produces a mirror of what's on your main screen or adds more room for more apps.
Devices Charm has a function for just about every area in Windows 8.
Settings
If you're looking for settings, The Settings Charm is where you should always go.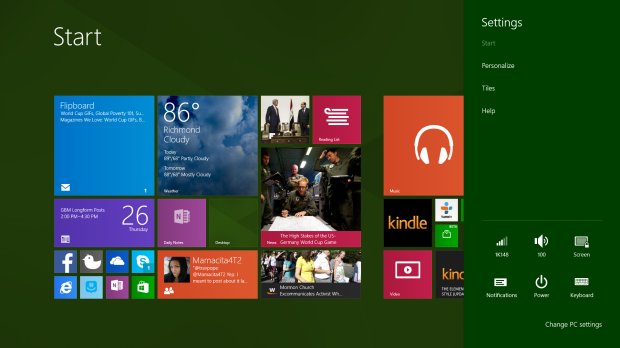 In the Desktop, the Settings Charm allows users to quickly go to the Control Panel and get more information about their device. In Start Screen apps its contextual and it'll present you with the settings for the app you currently have open.
Apps & Live Tiles
Pinning Live Tiles
Live Tiles are like notifications and shortcuts all-in-one. Pinning one to your Start Screen will often surface new emails and status updates without having to open those individual apps. Turning a Live Tile off or resizing is as simple as right clicking on it. You can pin more apps by clicking on the arrow at the bottom of the Start Screen and right-clicking on an installed app.
Searching
To search anything, installed apps or even documents on your computer, simply press your Windows Key or the Start Charm and begin typing away. The Start Screen will automatically begin giving you results.
Closing Apps
To close an app, just put the mouse cursor in the top of your screen and wait for the X to appear. Close it from there or click on the top of the app and drag it to the bottom of your screen.
Multitasking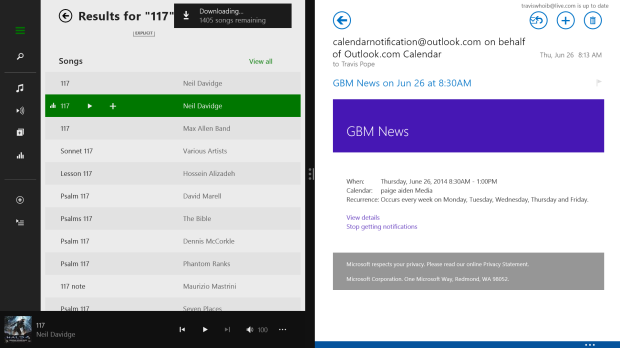 Most Windows devices can actually run two or more Windows Store applications at the same time. Microsoft calls this snapping. Drag the top of an app to the left or right side of your screen to snap it. Then move the bar in the center around to adjust how much the app you see.
Those are the basics of the Start Screen in Windows 8.1. If the Start Screen on your machine doesn't look like what's shown above then it's possible you don't have the latest updates installed. Don't worry, your new Windows device will automatically download them if you have an internet connection.

This article may contain affiliate links. Click here for more details.