Guitar Hero Live Coming for the MTV Generation
Video game publisher Activision is sharing more about the return and rebirth of its beloved, but somewhat beleaguered Guitar Hero series of video games. With a fury of reports and posts we're learning more about Guitar Hero Live, the new edition of the game arriving later this year.
Activision revealed Guitar Hero Live in a press release this morning on its corporate blog, just as a flurry of profiles about the game were going live. Together these pieces paint a picture that's very different from the Guitar Hero franchise the last we left it.
Guitar Hero Live will mark a huge departure from previous games in the series. Costing $99.99 for an Xbox One, Xbox 360, PS3 and PS4 version of the game, Guitar Hero Live seeks to repair the damage done by years of focusing on ever-complicated add-on accessories and different downloadable content packs focused on specific artists. The title is being developed by FreeStyleGames, who gained experience in the rhythm game genre with DJ Hero and DJ Hero 2.
Guitar Hero Live focuses on a lead guitarist's role, which is why having one of the new Guitar Hero controllers is so important. To be clear, that $99.99 will get users a copy of the game and a next-generation guitar controller with its buttons moved to the top of the hilt that FreeStyleGames hopes video game lovers and musicians will find more true-to-life than past guitar controllers for the series.
When it arrives later this year the Guitar Hero Live experience will be divided into multiple experiences, both making use of that same controller. In trying to think about the serious in a new way FreeStyleGames tried to get back to the basics. In a report at Polygon the game developer mentions the feeling users had pretending to be a rocks star as one of their guiding design principles. That's important because GH Live is a mode that seeks to create an authentic rock star experience.
Deliver a cheer-worthy performance and the crowd in GH Live reacts accordingly. Players won't see anything on their screen beyond the moves that they should be performing with their guitar controller and the reaction of the crowd I real-time. Screw up and the crowd reacts negatively. Exceed their lofty expectations and they react to that too. Players will give concerts in locations inspired by what Activision describes as "a variety of venues." In particular, smaller club venues and large stadiums are in this mode.
The second part of Guitar Hero Live is GHTV, and it's the more unorthodox of the two. Essentially, Activision is mashing up Guitar Hero game play and the non-stop music video channels that dominate cable in the 1990s.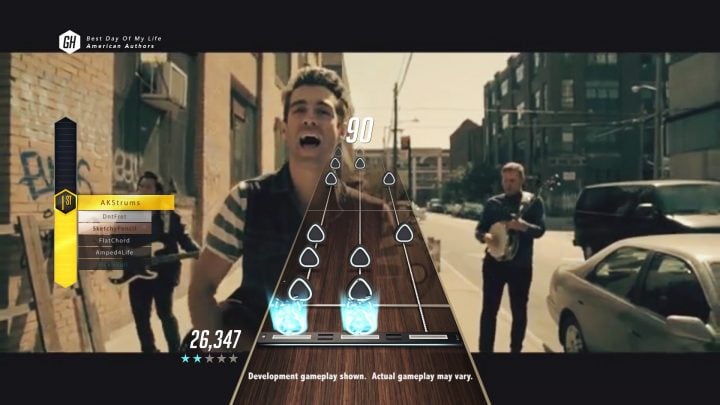 GHTV will play music videos non-stop. The latest songs from popular artists and past hits will litter the non-stop video channel. There'll be multiple channels to choose from along with shows based specifically on themes. At any time players will be able to play GHTV with their friends online. Today's press release confirms that there's a Guitar Hero Live or companion app on its way that features both modes of play, but doesn't offer up pricing or availability.
https://twitter.com/ScottLowe/status/588024358544769026/photo/1
Presumably, we'll need to wait until the Electronic Entertainment Expo in June for more news about Guitar Hero Live. That being said, fans in the New York City area don't. To celebrate the announcement Activision and FreeStyleGames are letting anyone play the game at the Best Buy Theater tonight, according to a message on Twitter.
Read: Rock band 4 Release Confirmed
A new version of old Guitar Hero rival Rock Band 4 is launching later in 2015 too.

As an Amazon Associate I earn from qualifying purchases.