Hacking a Way To Better Touch Controls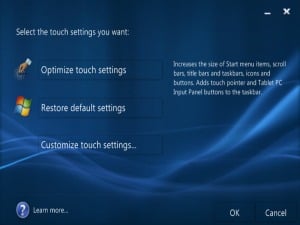 James Kendrick is enjoying touch on the Lenovo x200T Tablet PC, just as I am. It looks like he came across a method of making the touch experience a little better by using the Origami Experience. You might remember the Origami Experience as the shell that Microsoft created for UMPCs that enhanced scroll bars, title bars, etc… to improve the touch experience on the UMPC. That seems so long ago, but in reality it was laying the groundwork for what we are seeing now. jk is also working with the Viliv S5 and sees adding OE as a potential benefit there as well on that small screen.
Be warned though, the Origami Experience is intended for use with Vista and jk points out a couple of things you need to do in order to get around that. I'm not having much difficulty using the "two-finger touch" on the x200T with scroll bars and menu bars as they appear in Windows 7, but that might be different for different folks. So, you might want to take a gander at jk's post. Also look at the comments to that post. Kevin Tofel points out that you can do some of this natively in Windows 7.
Look for an InkShow later today or this evening about using touch on the x200T.