Haier Offers Yet Another Rebranded Arimia UMPC
Haier was a name that came out of the Intel Developers Conference that I hadn't heard before. Turns out Haier's UMPC entry will be another rebrand of the Arima UMPC that we've seen from Medion, Gigabyte, and Tango Wings. There's a difference in the pictures that are surfacing in that the keyboard isn't split down the middle as we've seen in other offerings of the UM650. UMPC Portal and Pocketables have more details, such as they are at this point.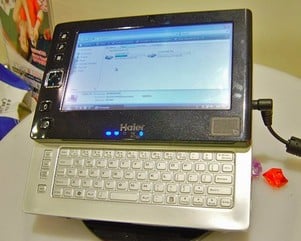 As an Amazon Associate I earn from qualifying purchases.