Halo 5: Guardians Warzone Mode Revealed at E3 2015
At this week's Xbox Media Briefing at E3 2015, Microsoft didn't just give console owners another look at its Halo 5: Guardians game for the Xbox One. The company announced revealed War Zone, a dedicated new multiplayer mode made specifically for Halo 5: Guardians.
Warzone Mode is pretty much a multiplayer mode made for people who want to experience the ultimate in battle scenes that Halo 5: Guardians can throw at it. In a new trailer for the upcoming game mode we see Spartans of all looks jumping over obstacles and taking on even the most potent of foe, all in a high-definition back drop. Warzone is like a battle sandbox, or as Halo 5: Guardian developer 343 Industries describes it, a "gigantic multiplayer mode." Players are dropped off by UNSC forces and that's when the battle begins.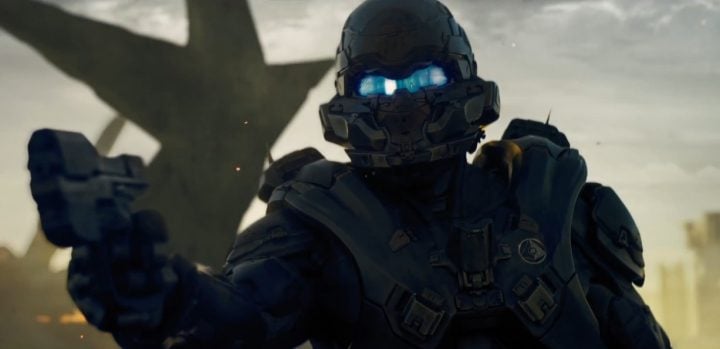 In a way, Warzone is a perfect replacement for the Spartan Ops and Firefight Modes that were in older versions of the game. Firefight allowed one or two players to team up against upcoming waves of Covenant enemies. As the match lasted longer, the enemies would get more deadly. Spartan Ops was a multiplayer campaign that 343 Industries released in small episodes.

Players will be able to call in strike teams to handle more dangerous enemies in Warzone. 343 Industries makes it pretty clear in the trailer that Warzone will involve defeating everything Covenant forces can possibly muster.
Read: 3 Shocking Halo 5: Guardians Details
In an interesting twist, 343 Industries has options for customizing Warzone game play. Xbox One owners can play alongside their friends and family, or they can play against each other on opposing teams. Microsoft says that maps in Halo 5: Guardians are so big that it'll be able to drop 24 different players into games without the maps feeling claustrophobic. To keep players mobile, there'll be vehicles scattered throughout Warzone. Xbox Wire, Microsoft's dedicated blog for information about new games and Xbox One upgrades doesn't yet have more details to share about Warzone. Presumably, the mode will be available on Halo 5: Guardians release day, but we're still waiting on confirmation for that. Spartan Ops from Halo 4 didn't go live until after release.
Theoretically, 343 Industries is giving players the tools they need to participate in epic battles whenever they feel like it. Previously, you really had to replay parts of Halo's campaign to get this kind of epic battle. Some multiplayer maps were able to deliver that experience, but not consistently.
Halo 5: Guardians seems as if it's the most ambitious Halo game to date. 343 Industries is promising a multiplayer experience that's better than previous titles. New jet packs allow players to quickly move around levels, giving multiplayer combat a speed boost. Players can also use those jetpacks to traverse the landscape around them. At its E3 2015 Media Briefing Microsoft also showed off some of the Halo 5: Guardians campaign. In that video we got to see how jetpacks allowed the video game developer to make the Halo 5: Guardians campaign more vertical.
To truly come out ahead of Sony's PS4 in sales, Microsoft will need Halo 5: Guardians and other exclusive titles to deliver fans. Halo 5: Guardians is the highlight of a fall gaming line-up that includes Rise of the Tomb Raider, Fable Legends and Forza 6. Microsoft also revealed that Xbox 360 games would be playable on the Xbox One. To be clear, the company is adding compatibility for disc and digital Xbox 360 games without any extra purchases.
Read: Xbox One Backwards Compatibility Brings 360 Games Back
Halo 5: Guardians is available for pre-order now for $60.