Halo 5 Updates for May: Hog Wild Details
Today, video game developer 343 Industries is set to deliver another one of its Halo 5 updates. The studio is in rare form, having delivered a huge update to in early May already. Halo 5: Guardians is the first-person shooter that Microsoft launched last year for Xbox One. Rather than sell map packs, 343 Industries provides upgrades to the game at no charge. Users then have the option to purchase REQ Packs that come with REQ Cards. These REQ Cards temporarily unlock weapons and vehicles. They permanently unlock armor customization options. Called Hog Wild, this latest of the Halo 5 updates is exclusively about adding new REQ Cards.
Here's what you need to know about the Halo 5 Hog Wild update right now.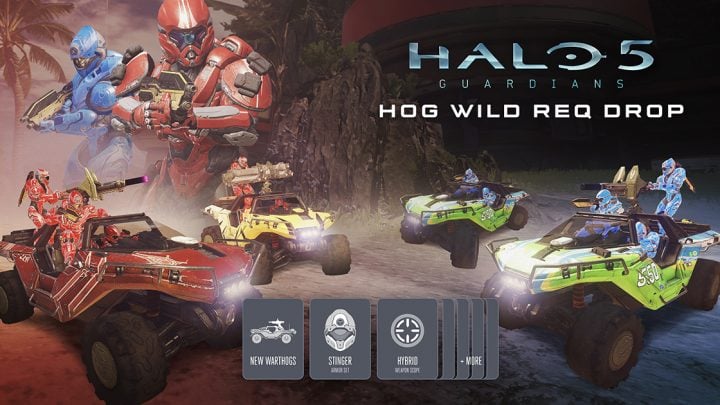 Halo 5 Updates for May: Don't Expect Much from Hog Wild
The most important news about the Hog Wild update isn't what will make it into the game when it arrives. Instead, it's what won't make it into the game with the update. Speaking about the pace of future updates, 343 Industries informed users on its Halo Waypoint blog that the Hog Wild update would be slim.
Read: Halo 5 Forge for Windows 10: Everything We Know
According to the studio, things that it'd originally planned to deliver to Halo 5 with Hog Wild simply weren't done. Rather than delay the update a few weeks, the studio decided to still launch a smaller, slimmed down Hog Wild line-up for everyone. This month Halo 5: Guardians will get no new maps or modes.
Almost all of the Hog Wild content will launch with June's Warzone Firefight now. The studio won't begin talking about that update for a few weeks, however.
Halo 5 Updates for May: Hog Wild Release Date
343 is launching Hog Wild today, May 31st for all owners of the Xbox One with a digital or physical copy of the game. As is the case with every update to the game, users shouldn't expect to pay anything. Halo 5: Guardians updates are absolutely free.
Halo 5 Updates for May: Hog Wild REQ Cards
With maps and modes off the table for this latest in Halo 5 updates, what we're left with is new REQ Cards for players to spend their real-world money on or earn through participating in the game's multiplayer modes.
As the name suggests, more than a few of these REQ Cards are centered around the Wart Hog, the UNSC's unofficial designation for its all-terrain vehicle. The Hog Wild REQ line-up includes a single Legendary Warthog REQ Card, the Vespin Rocket Warthog. A single Rare Warthog REQ Card is added with the game update too. It's the Sword Needler Warthog.  There are two Rally Scout Warthogs too, but both are simply Uncommon. Different REQs are easier to obtain than others, hence the ratings.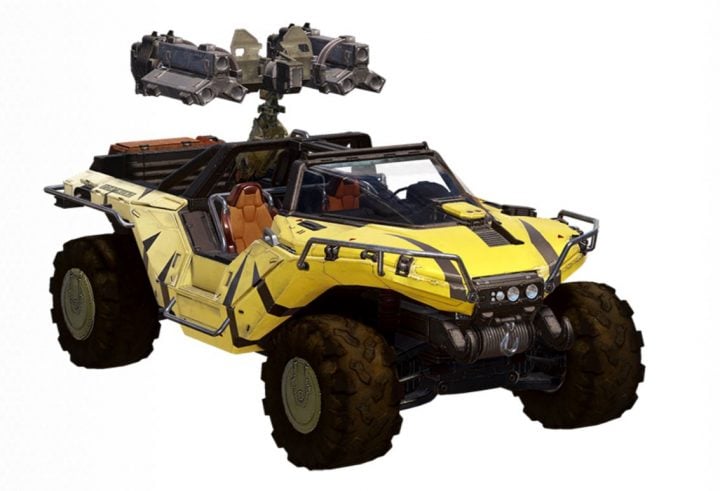 Armor pieces include the Uncommon Stinger helmet and chest piece. The new Interceptor Rictus pieces are rated Rare. Halo 5: Guardians allows multiplayer users to customize the tint and pattern of character's helmet shielding for a bit of added personality too. To that end, the Legendary Starfire REQ Card gets users a visor with a blue and purple hue.
There's also the new Hybrid SMG, Hybrid AR, Hybrid BR, Hybrid DMR, Aurum Pistol. Other cosmetic items include the Aurum weapon skins and the five different logos for the game's multiplayer menus.
Halo 5 Updates for May: Other Hog Wild Changes
The Hog Wild update contains just those REQ cards and nothing more. That being said, at the same time that it announced the changes, 343 Industries confirmed some switches for those that like the Team Arena playlist.
Slayer has picked up Truth, The Rig, Coliseum, Regret, Eden and Plaza. Capture the Flag is getting Fathom, Coliseum, Stasis and Truth. Strongholds has picked up The Rig, Eden, Empire and Plaza. All of these updates debuted already.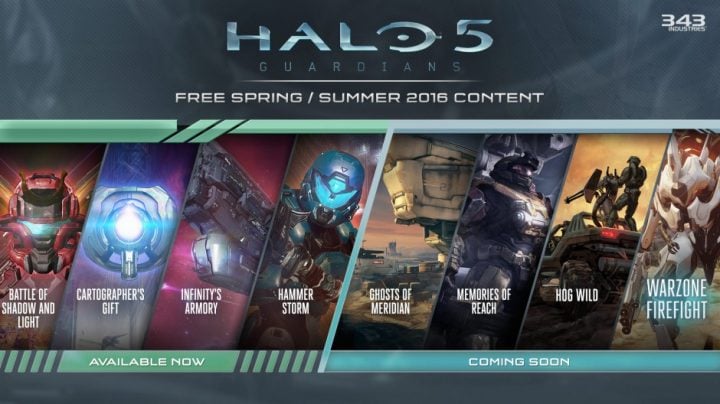 Sure this latest of Halo 5 updates isn't the most stuffed, but that's just fine. 343 launched a hefty update to the game earlier in May, which certainly helps with how little new content Hog Wild has. It also helps that Warzone Firefight will introduce some big changes of its own when it arrives in late June.
Besides the new Warzone Firefight mode inspired by the game mode from Halo 3: ODST, 343 has confirmed that it'll be introducing its first-ever Boss Refresh with the upgrade. Among the thing teased is Legendary Bosses with unique names, a REQ weapon of their own and "bigger" payoffs.
We'll likely see more of the Warzone Firefight update way before it launches on the Xbox One. Microsoft is due to show off upgrades and exclusives across its entire line-up at the E3 2016 trade show on June 13th. The studio says that Halo Wars 2 will be available at the show to play too.
Read: Halo 5 Warzone Firefight Update: All The Details We Have
New from the Xbox Store, Halo 5: Guardians costs as little $59.99. Halo 5 is $39.99 when purchased used at GameStop.

As an Amazon Associate I earn from qualifying purchases.