Halo 5 Warzone Firefight Beta: All The Details  
Microsoft-owned developer 343 Industries has improved on Halo 5: Guardians every month since the game launched back in October of 2015. It's added new maps and thrown in new weapons. The studio has given out access to new armor sets and weapons. It even added an entire creation sandbox with Forge Mode. None of those updates – not a single one – has proven to be more intriguing than Halo 5's coming Warzone Firefight upgrade.
Warzone Firefight isn't exactly a new feature for the Halo universe as a whole. It's an off-shoot, a remake of the Firefight mode that developer Bungie introduced to the series with Halo 3: ODST. This week, Microsoft confirmed that it's planning to hold a Halo 5 Warzone Firefight Beta for those that would like to test the mode ahead of its planned launch in the summer.
Read: Halo 5 Warzone Firefight Update: All the Details We Have
What Halo 5 Warzone Firefight Is
In Halo 3: ODST, Bungie provided users with the same multiplayer experience from Halo 3. As a way to make up for that, the studio introduced the first version of Firefight. The mode dropped players into different areas from the game's campaign, then threw ever-increasing waves of hostile Covenant forces at them. In the regular Halo campaign, you're just trying to stay alive until you reach your next check-point. Firefight forced you to think strategically about how you play. The whole point was to last as long as you possibly can. That meant conserving ammunition and being careful in your approach.
343 Industries confirms that Warzone Firefight stands on the shoulders of that original experience in a recent post on Halo Waypoint. The goals are still the same, you want to last as long as you possibly can. The further along you get, the more difficult the mode will become. It's added a lot of unique stuff though. Those unique parts of the experience are why a Warzone Firefight Beta is necessary.
Warzone Firefight loops in multiplayer in a big way. Previous Halo games let you team up with another player, but this version lets you create a squad of eight players to fight alongside. You and those eight players have to make it through five different rounds or die trying. Objectives change on the fly, meaning players can try the mode over and over without getting the same experience.
The REQ system wasn't around for the original version of Firefight, but Microsoft is including the mechanic with this new one. Players get to use their REQ Cards in the mode just like they can in other Warzone modes. This is also big for another reason. Arena, the traditional Halo multiplayer experience, doesn't allow for REQ Card usage at all.
Halo 5 Warzone Firefight Beta Release Date
For the next five consecutive days, Halo 5 owners will get to try the mode out for themselves. Forget all the sizzle reels and teases. On April 19th, the Warzone Firefight Beta will end. Users will have to wait until its final release to experience it again.
What's in the Warzone Firefight Beta Release
As it's a beta, 343 Industries is limiting the content users can experience. There'll be seven maps available when the final version of the game mode launches, but the Warzone Firefight Beta this month will include just a single map, called Escape from A.R.C.
To celebrate the beta, Microsoft is selling an all-new REQ bundle. Called the Mythic Warzone REQ Pack, buyers get ten Mythic level cards to use for weapons and power-ups in Warzone Firefight and regular Warzone modes. The packs also drop an Ultra Rare or Legendary weapon or vehicle. For comparison, a single Gold REQ Pack costs $2.99 through the Xbox Store today.  The Mythic Warzone REQ Pack costs $9.99.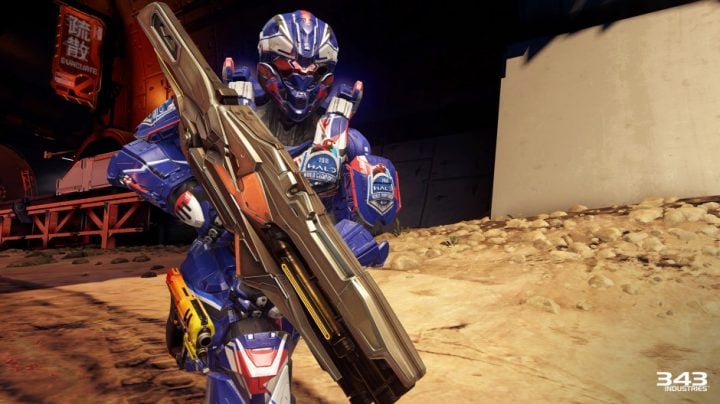 Getting the Warzone Firefight Beta Release
Getting ready for the Warzone Firefight Beta release is very straight-forward right now. You just need to install the latest updates for Halo 5: Guardians. Once you've done that, look for the Warzone Firefight playlist in the game's menu of Warzone multiplayer options.
That's it, there are no extra setup steps required You don't have wait for your Xbox One to download extra software or redeem a code to get into the beta. Of course, you do need a digital or disc copy of Halo 5: Guardians. That's only if you don't have one already.
Gotta Be Mobile will have more of the Warzone Firefight mode later this year when it launches for all users in its final form. Depending on how the beta goes, 343 Industries could have gameplay changes in store to go along with the other maps that are missing in the current test.