Halo 5 Warzone Firefight Update: All The Details We Have
There's no disputing it, Halo 5: Guardians was Microsoft's biggest seller of Xbox One consoles last year. It definitely should have been, the game – only available to those that own Xbox Ones – was built specifically to show off the capabilities of the console and Xbox Live.  It featured new gameplay additions, like REQ Cards and an all—new seamless co-operative experience for feeling like you were actually on a team.
Though it was a crowd pleaser, Halo 5: Guardians arrived with some key features missing. Microsoft promised that it would plug the holes in the feature list over time. It said that it would add new maps, interface improvements and more through monthly release upgrades free of charge.
Delivering Forge Mode to Halo 5 owners was big, but the game is due for its biggest feature addition yet in just a few months' time. This winter Microsoft and 343 Industries confirmed Halo 5 Warzone Firefight, a new game mode coming in the not too distant future. Warzone Firefight will give players something fresh to do online and deliver a modern experience for a mode we haven't seen in a Halo game for a while now.
Here's what we know about Halo 5's Warzone Firefight Update right now, and when we can expect the new game mode to arrive.
Halo 5 Warzone Firefight Won't Cost You Anything & It's Coming This Summer
It's always a great idea to start with the basics, especially with something as complicated as a video game that's being treated as a service. No update containing new maps or modes has ever cost Halo 5: Guardians players anything other than used bandwidth on their internet connection. The Halo 5 Warzone Firefight Update won't cost users anything extra either.
As for when we can expect the Warzone Firefight Update to launch, that's up for some debate. The first time, Microsoft talked about the update it showcased a graphic revealing other updates coming to Halo 5. The graphic indicated that the next major upgrade for Halo 5 would be the Ghosts of Meridian Update, which is coming early this April.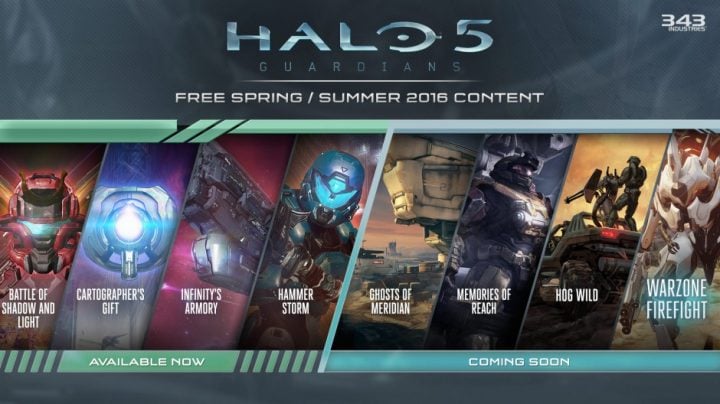 If we assume that Microsoft will stick to delivering a single Halo 5 update each month, it appears that the Warzone Firefight update will follow the Memories of Reach and Hog Wild updates. For now, it seems safe to assume that Warzone Firefight will make its way to users sometime in July.
What is Halo 5 Warzone Firefight?
So what is Warzone Firefight? It's half a continuation of Warzone, another mode that everyone who has played online with Halo 5 should be familiar with. On the other hand, it's also a continuation of Firefight from Halo 3: ODST. In that original version of Firefight, players teamed up to take on computer controlled enemies. The longer they lasted, the better they performed in the post battle breakdown.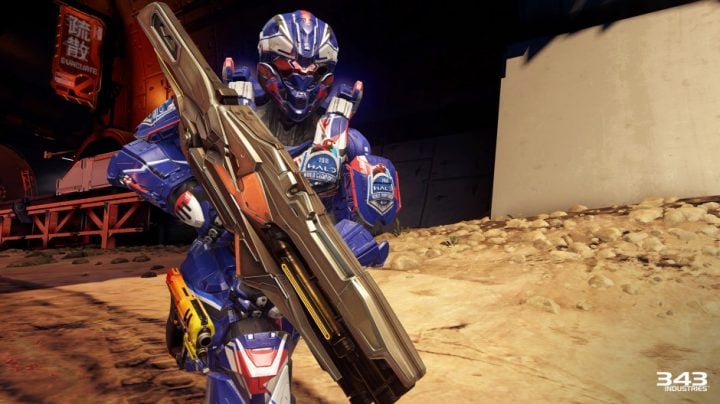 Warzone Firefight takes that same "player versus the world" setup, but expands on it a bit. Eight different people on their own console will be able to participate in a single Warzone Firefight match over Xbox Live. The mode is keeping the difficulty curve from earlier versions too; as players progress, they'll have to contend with new missions that change on the fly, Microsoft says in a post on its Xbox Wire blog.
What's New for Halo 5 Warzone Firefight?
Besides support for eight different players, Halo 5 Warzone Firefight picks up some new tricks. First, the mode is getting some dangerous new enemies with a new tier 343 Industries is calling Mythic. The studio is also promising "the most on-screen enemies in the history of the franchise."
That aforementioned objective system will try to keep things fresh all the time, with gamers able to play "thousands" of matches before they can they same combination of objectives to complete. If true, this'll keep Warzone Firefight infinitely more interesting than the original Firefight, which could get a bit predictable after spending hours in it.
343 Industries keeps Halo 5 updates free by offering REQ Cards. REQ Cards offer character armor, abilities and one-time use weapons. They're earnable in the game, but users can also purchase packs of REQ Cards through the Xbox Store.
Warzone Firefight will support REQ Cards and REQ Packs, giving players the chance to make their experience a little more interesting. Since REQ Cards are randomly generated when users purchase a REQ Pack, all kinds of cool weapons and vehicles could arrive to assist players trying to hold off hordes of dangerous Covenant and Forerunner forces.
Remember, to play Halo 5 Warzone Firefight you'll need a copy of Halo 5: Guardians. Video game store GameStop has physical copies of the game on sale for $49.99, with new copies still selling for $59.99. The Xbox Store is still selling digital copies of the game for $59.99.