Handling a Snow Emergency with an iPhone and Extra Battery Power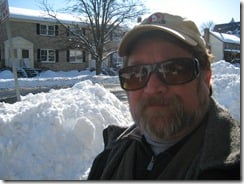 This weekend was nuts here in the Northern Shenandoah Valley. Like most of the Mid-Atlantic and New England we were socked with snowfall. We got between 18 inches and 2 feet locally and of course that threw us into a tailspin at Wayside Theatre where I work. We had to cancel all four weekend performances for our Annual Christmas Show which meant dealing with both our audiences and our artists. Of course Sunday was a repeat of Saturday.
I and many of our staff members live outside of town where the theatre resides so we couldn't get in until Sunday, so the staff an interns who live in town came in to shovel and man the phones. In order to keep the flow of calls going outbound and coming inbound, we all used cell phones and text messaging to communicate.  We were busy trying to move customers into remaining shows at the theatre, dealing with those who were upset because their schedules and our remaining performance schedule didn't jive.
In between digging my own driveway out I was constantly being messaged and called by the staff at the theatre asking for advice on how to deal with one issue or another. We figure we've lost about $20,000 in revenue due to the storm, which is huge.
I spent most of the day Saturday and Sunday in "snow clothes" and boots and I didn't feel like stripping down to head upstairs to a computer so I relied on the iPhone more than I usually do,  perhaps its most grueling two day period since I've owned it. It handled the chores I threw at it well, in addition to the picture taking I was doing when I had the chance. (I mostly used my Canon for the many pictures you can see here.) In a heavy work flow the iPhone battery held up OK, not great. I had to toss it on the Mophie Juice pack and also use the battery from MonoPrice to get through the day and into the evening. I'm sure cold weather had some play in that as well.
Today is not much different. Our phone lines are swamped with calls and we're all using cellphones to communicate with each other to keep the lines free.
The result of the weekend was something I've always suspected. If you're going to rely on the iPhone (or most smartphones for that matter) for heavy work, make sure you have extra batteries or battery solutions available.