Hands-on Video of Nokia N900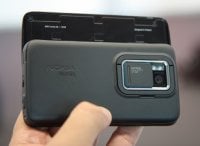 Chippy of UMPCPortal is at Nokia World and making sure to get his hands on every new device he can find, including the Nokia N900 (more than an) Internet tablet. He has video of the device in his very capable hands, giving it a whirl. Posted after the break.


Two things that stick out at me are the horizontal orientation and the size. It has an accelerometer, which Chippy demos later in the video, but it seems designed almost exclusively for use in horizontal mode. This really puts a crimp in one-handed use, which wouldn't bother me if it was larger, but the size puts it squarely in iPhone and Palm Pre territory. Orientation detracts from one-handed use. Size detracts from two-handed use. Looks like they were aiming for the best of both worlds, but wound up getting the worst.
The physical constraints are extra woeful since the software UI looks really good. I think Chippy's right about that rotation zoom gesture, but everything else looks very fluid and easy to use.