Hands On With Huawei Ascend Mate
At CES Huawei introduced its new 1080p phablet with a 6.1-inch display, the Huawei Ascend Mate.
At 6.1 inches the Ascend Mate is one of the largest smartphones on the market. It's just about an inch away from qualifying as a tablet, but it has a higher resolution than most 7-inch tablets. The large size makes holding the Ascend Mate with one hand difficult, let alone using it with one hand.
Read: CES 2013 Highlights
The Huawei Ascend Mate runs Android 4.1 Jelly Bean with Huawei's Emotion UI laid over it. The UI makes several major changes to Android. For one, it removes the app drawer so apps only appear on the homescreens and dock of the phone. The change is hard to get used to, especially for anyone who's used Android for any length of time.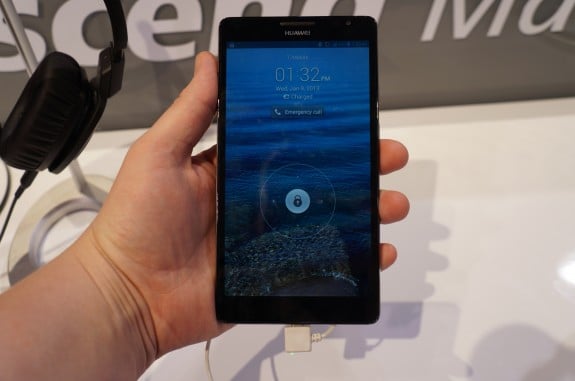 Huawei used the software buttons of Android in the Ascend Mate, but made it so they aren't always on-screen. The Chinese company added a small arrow to the left of the back button which hides the row of virtual buttons. The rest of the screen then stretches to fill in the entire 1080p display of the phone. A swipe up from the bottom of the display shows the buttons on-screen again.
The Huawei Ascend Mate seemed fast during the few minutes of hands on time. There wasn't any noticeable lag, though the demo unit didn't have any graphically intense apps to test out, so it's hard to say for sure.
While the Huawei Ascend Mate competes with the Galaxy Note 2 in terms of size, the Mate lacks the stylus of the Note 2. The Ascend Mate is actually closer in size to the rumored 6.3-inch Galaxy Note 3, which will likely have a stylus to help users navigate the phone. With a display this large, a stylus seems necessary.
The Huawei Ascend Mate likely won't come to the U.S., but there is always a possibility.

As an Amazon Associate I earn from qualifying purchases.