Hands on With iOS 6 Maps, Facebook, Do Not Disturb and More (Video)
Apple introduced a lot of new features for iOS 6, including some that iPhone owners will surely want today.
The official iOS 6 release date isn't until fall, but I've installed the iOS 6 beta on my iPhone 4S to test out the early version of Apple's new software for the iPhone, iPad and iPod Touch.
Read: Siri iOS 6 Features Hands On Video
Apple claims there are over 200 new features in iOS 6, but there are really only 40 you'll actually use.
In this video I show off some of my top 10 iOS 6 killer features to give a closer look at the software that will arrive on iPhones this fall.
Some of these features will only be available on the iPhone 4S, and on the iPhone 5, so iPhone 3GS owners should start thinking about an upgrade.
Check out the hands on with new iOS 6 features to see what you can download iOS 6 to the iPhone this fall.
The biggest improvement users who travel will notice is the new turn-by-turn voice navigation. Apple finally delivers a usable GPS navigation tool built into the iPhone. This will give Android a run for its money.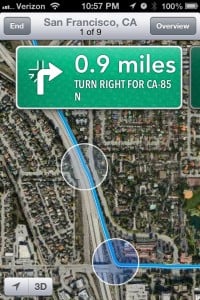 Apple also includes 3D maps in a new flyover view that provides incredible views of surroundings.
Facebook integration is finally here. In iOS 6, users can post to Facebook with Siri, post from the Notification Center and share photos right to Facebook. There is deeper integration with contacts and the ability to like apps from the App store too.
The new app store has a better look with a nice layout for looking at app screenshots and finding reviews. Nothing revolutionary, but it looks nice.
The Do Not Disturb feature allows iPhone and iPad owners to silence notifications and phone calls for a set period of time. I like that I can schedule the timing and that I am able to whitelist callers who should always get through.
The Phone app is smarter in iOS 6. Users can now ignore a call with a text message, or schedule a reminder to call the person back at a later time.
Small changes round out the experience like faster access to Bluetooth settings and the ability to set iTunes songs as alarms.
What's your favorite part about iOS 6? Are you using the beta right now?

As an Amazon Associate I earn from qualifying purchases.