Hands On With OS X Mountain Lion AirPlay to Apple TV (Video)
One of the most exciting features in the upcoming OS X Mountain Lion upgrade is the ability to wirelessly stream your Mac's desktop to your Apple TV.
The iPad 2 and iPhone 4S have had this feature for some time, so it is great to see AirPlay arriving on the Macbook Air and MacBook Pro. I've been reviewing the new Mountain Lion version of OS X for the past few days and I wanted to share my first impressions of AirPlay for Mac.
(OS X Mountain Lion Features Announced)
Once OS X Mountain Lion ships this summer, I expect to see a spike in Apple TV sales as users stream Hulu and Network TV shows to their Apple TV and businesses add the ability to wirelessly use projectors.
AirPlay for Mac allows you to connect to an Apple TV, sending your current screen to an HDTV at the current resolution or matched to the Apple TV's 720P resolution. You can see our hands on with AirPlay for Mac on OS X Mountain Lion in the video above. You get a look at webpages, videos on a webpage and full 720P HD video from Hulu Plus streamed from a MacBook Air to an Apple TV.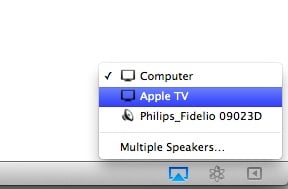 The process is very easy and it works as advertised. There were occasional disconnects during my time using AirPlay for Mac, but this is a developer preview so I expect that Apple will work out these bugs by the time OS X Mountain Lion is released.It is nice to be able to stream to the Apple TV in either resolution.
You can stream your audio along with video to the Apple TV, or if you want to just push the audio from your MacBook Air to your Apple TV and home theater system you can do that too. If you are using iTunes, there is a button in the lower right to choose your speakers with a few clicks, including using multiple AirPlay speakers.