Hands On with Siri for iOS 6 (Video)
Apple gives users more power with the new version of Siri in the iOS 6 beta.
I took the new and improved Siri for a spin on an iPhone 4S with the iOS 6 beta installed. Not every new Siri feature worked properly, but for the most part the new Siri is a welcome change.
Read: Hands On With 10 Killer iOS 6 Features
iOS 6 is the new software for the iPhone, iPad and iPod Touch. Apple announced iOS 6 at WWDC 2012, and will release it publicly this fall, close to the iPhone 5 release date.
In the hands on video below I show Siri's new features available in the iOS 6 beta on the iPhone 4S.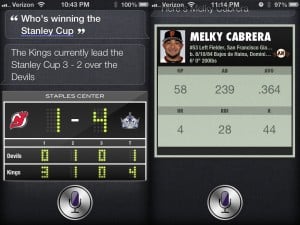 Siri Knows Sports – Siri can now check player rosters, sports schedules, player stats and even tell you who's taller.
Movie Master – Siri can look up movie showtimes, the service can also find movie reviews and even play a trailer with spoken commands.
Notifications – Siri can now read notifications from most apps. This feature is temperamental in my tests, but I look forward to the working version.
Tweet and Post to Facebook – Siri can now tweet and post just like the service could always send text messages.
Find Fine Dining – Siri can check restaurant reviews, but with iOS 6 the service is even better because it is possible to make a reservation with Open Table.
All of these requests work in the same naturally spoken manner as other Siri requests, though Siri is picky about sports requests and may not handle hard to pronounce names of players well.
The iOS 6 beta is available for developers, but users who can't wait can download the iOS 6 beta, register for $7-$8 and follow our guide to install iOS 6 on the iPhone 4S, iPhone 4, new iPad and iPad 2. Siri only works on the iPhone 4S and the new iPad.

As an Amazon Associate I earn from qualifying purchases.