Hands on with the Nokia Booklet 3G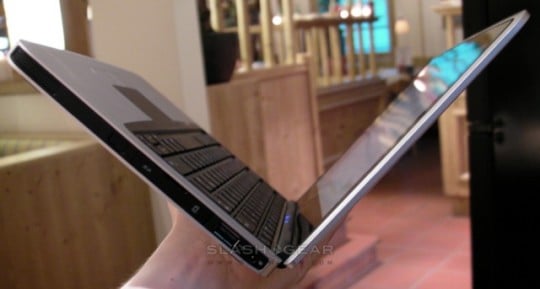 Nokia is unveiling specs and pricing of the Booklet 3G and intially those who have gotten their gubby mitts on the pre-production units seem impressed. Chris Davies of SlashGear has a slew of pictures up for you to oogle and says that he's very impressed with the keyboard and even more impressed with the dimensions in real live than in reading the specs.
Speaking of specs here's what we're seeing:
Windows 7
1.6GHz Atom Z530 processor
120GB hard disk (1.8 inch 4200rpm)
1GB RAM
802.11n Wi-Fi, and HDMI
Accelerometer
Assisted GPS
Hot Swappable SIM card slot
720p screen
1.3-megapixel camera
As jkkmobile points out the 57Wh battery will have a hard time yielding the promised 12 hour battery life. As for price, expect the $810 hit to be subsidized by carriers, but then Nokia doesn't really have a great relationship with carriers here in the US.
There's also more coverage and pictures at the Nokia Blog.
Is this a contender? Yes or no?