Hands-On with the Samsung Galaxy Tab Pro Series
This week at the annual Consumer Electronics Show taking place in Las Vegas Samsung announced a handful of new premium top-tier Android tablets the company hopes will better stack up against the competition. Coming in three different sizes with a Galaxy Tab Pro 8.4, 10.1, and ending with a massive 12.2-inch option.
Following the announcement we had a moment to get our hands on the new sleek tablets and give the brand new Magazine UX a test, which is Samsung's new approach to delivering more content to your eyes magazine style across the main screens of your device. Along with improved specs and a similar design as we saw with the earlier reviewed Galaxy Note 10.1 2014 edition, here's a few pictures and video of the entire series.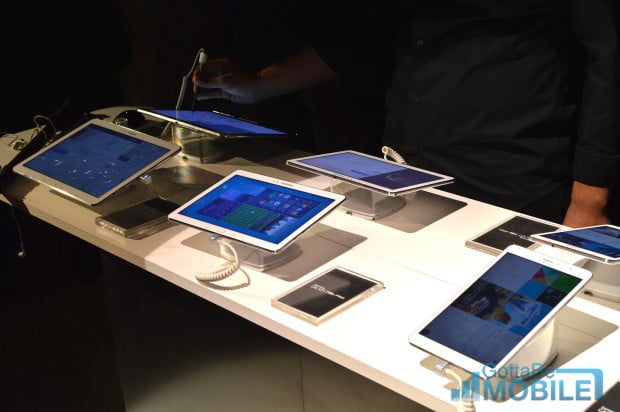 Galaxy Tab Pro 8.4
Starting with our favorite of the three in the Tab Pro lineup, the new Samsung Galaxy Tab Pro 8.4 is one of the best tablets I've used to date, even if I only had a few moments with it. One of the most compelling aspects is the excellent design wrapped around the stunning display. The Tab Pro 8.4-inch comes with a 2560 x 1600 resolution LCD display, and it's simply gorgeous. Pixels are bright and colorful and surely it will give the iPad Mini Retina a run for its money.
At first glance you'd never know the new Samsung tablets run Android 4.4 KitKat, as we have a completely redesigned user interface taking over. A good blend of HTC Sense and a little Windows 8, the tile-based "Magazine UX" is quite impressive after you use it for a few minutes, but may not be favorable to the Android enthusiast. However, delivering tons of content, all being customizable, it's better than I originally thought. Here's a quick glance at the new interface.
Showing nearly no signs of Android until you pull down to reveal the notification bar, which is another step users must do before pulling down again to reveal notifications, WiFi and other toggles, and head to settings. It's a nice change, but will take some getting used to.
That being said the entire look and feel of the 8.4-inch makes it instantly a competitor to the iPad Mini and Nexus 7. Hopefully Samsung can price it right considering the specs and Snapdragon 800 quad-core processor, as it's more powerful than both tablets just previously mentioned.
Sleek bezels, new UI, a faux-leather texture on the back and more, it's a good looking device and we can't wait to hear more about pricing and a release date. It's worth mentioning there is clearly a SIM slot, and we're expecting multiple US carriers to jump on board.
Galaxy Tab Pro 10.1
The Galaxy Tab Pro 10.1 and 12.2 are exactly the same as the above referenced tablet when it comes to software, design, and the new user interface changes, but the specs are slightly different. All three new tablets come with infrared ports to use the Samsung-partnered Peel remote control app, we have micro-SD slots for expanding storage to fill it with games and movies while on the go, and they all rock the fake leather design on back. Which by the way looks great, and feels nice too. No more cold aluminum on your fingers.
The side-mounted speakers we weren't able to test out, but so far the new tablets have a lot going for them. From super HD screens of 2560 x 1600, to large battery options and powerful processors. Both the Galaxy Tab 10.1 and 12.2 have options of the 8-core Samsung Exynos processor or Qualcomm's Snapdragon 800 quad-core at 2.3 GHz, we have 2GB of RAM, and 16/32GB storage options. The Galaxy Note however, has 3GB of RAM and 64GB of storage.
The two options are most likely due to region, as well as 4G LTE support in places like the US who will partner and offer these tablets on carriers like AT&T and Verizon, as we've seen in the past.
Read: Samsung Galaxy Note Pro 12.2 Hands-On
Last but certainly not least is the other large tablet announced this week. Coming in at 12.2-inches with a 2560 x 1600 resolution, the Galaxy Tab Pro 12.2 is just massive. However, it's still extremely thin and lightweight, and employs the same soft-touch fake leather design on rear so it remains comfortable to use, even if holding a device that big may be a challenge or some. Samsung's never afraid to push the size boundaries.
The large tablet enjoys the same new user interface changes and features as the above devices, runs Android 4.4 KitKat, and is just massive. Samsung has a mouse coming soon, and we're also hearing a stand or dock and keyboard accessory should arrive along with the tablet once released. And again, there's no details yet on an actual release date, but we're hearing sometime in February or March.
One of the best things about the 12.2-inch Galaxy Tab and Note Pro is the option for multi-window to now have four windows. Allowing users to read email, with a web browser open, and still see a YouTube video playing on a relatively big window inside the same display all at the same time. It's quite powerful, super helpful for multitasking, and the video above shows it well.
Previous leaks suggest the Galaxy Note 12 is headed to AT&T, and most carriers will probably also offer the Galaxy Tab option, as it will be priced lower, and the 8.4-inch is extremely portable and should be available from more than one US carrier later this year. Hopefully before the end of February.