Hantech Siso Tablo Reviewed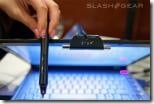 We've reported on a similar product in the Hanwha Duo, but now we have a review of a working unit of the Hantech Siso Tablo from the folks over at Slashgear. The Siso Tablo works on the same premise as the Duo with a transceiver unit that sits either atop your laptop a la webcam or above a sheet of paper or notebook (like the clasp on a clipboard) and receives proximity and input information coming from the pen. The device then translates motion and input into text on screen. It's a great introduction, I think, to the power and benefits of digital note-taking. According to reviewer Steven Grady, the Tablo is great for graphic artists, even saying that the Tablo works as well, if not better, than traditional tablets. The Tablo comes with an option to add a ballpoint pen tip so you can have a paper copy of your digitized notes. This $100 gizmo is a great option for people who already have notebooks and cannot justify the expense of a convertible tablet.

As an Amazon Associate I earn from qualifying purchases.