Hanvon Launches Its Tablet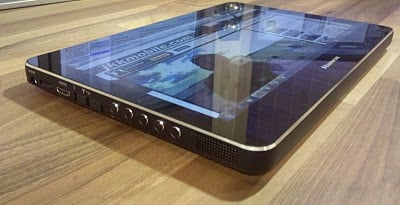 We've been interested in seeing the Hanvon Tablet lineup for some time and it looks like we might be getting closer. Hanvon has just announced its multi-touch Tablet which promises both multi-touch and pen and ink. They are calling it the Touchpad.
The keyboardless Tablet has a 10.1 inch screen with a resolution of 1024×768 and is running Windows 7. The model talked about here is the BC10C, which is not the model that promises a better Inking experience. That's the BA10E, which we'll have to wait some more to hear about.
jkkmobile has been working with the BC10C for some time and has some interesting video on the device.
Below is the press release.
Hanvon Launches the First Multi-Touch Tablet PC – Touchpad
**The highly anticipated multi-function tablet PC that brings freedom to your fingertips**
HONG KONG, April 13 /PRNewswire-Asia/ — With rapid advancement in computer technology, the craze of tablet PCs has been running high. The leading manufacturer of consumer electronics in the country, Hanvon, has beaten the market in launching the first and latest Hanvon Touchpad tablet PC nationwide. This will be the second main product line for Hanvon after eBook. With the revolutionary technology in Multi-Touch's highly sensitive screen, together with the handwriting recognition and handwritten input using the star technology of Hanvon, one can achieve the effect of "writing with my heart". Touchpad is a portable entertainment partner as well as a handheld "electronic book" and digital photo frame. It also acts as an office secretary for office workers and the business elite. It can be connected to the Internet to transmit data, store information, process documents, etc. It also allows sports enthusiasts to receive and send information via the Internet anytime. As well as upload photos immediately for family and friends to share the joy of life.
(Photo: https://www.newscom.com/cgi-bin/prnh/20100413/CNTU006 )
Moreover, Touchpad has been pre-installed with Microsoft Windows 7 as the operating system, which facilitates the processing of working documents by professionals and others. The latest Hanvon Touchpad is now making its debut at all major computer electronics stores in a big way.
Anchoring on Hanvon's long-time position as the leading manufacturer in the domestic eBook market, together with over 20 years of experience in research and development in Chinese handwriting input technology as well as solid content resources, Hanvon has developed the tablet PC with robust and stable functions. Touchpad is pre-installed with the latest Windows 7 operating system to provide perfect support for Multi-Touch technology and to allow seamless Internet browsing with free-moving fingers. Even if one is not familiar with the keyboard input, it can still be operated through the human intelligence interface. The IntelCULV low-power processors and highly integrated motherboard chipset with large-capacity hard disk make it comparable with the mainstream computer and meet the needs of graphic processing capability, Internet browsing and movie and music entertainment. It has a maximum memory of up to 2GB with built-in Wi-Fi 802.11BG. It also supports Bluetooth and USB2.0. As for the MiniHDMI interface, it supports the connection from VGA to HDMI. Fitted with a 1.3-megapixel video camera, it supports face recognition and 1080P.
Touchpad does not come with a keyboard and has a thin bezel design. The furnace black casing is aluminum alloy and anti-scratch material gives it a perfect texture. The body is only 18mm thick and weighs approximately 960 grams, which is far lighter than the weight of the conventional notebook computer. It is portable, convenient to use and can be operated with one hand. It is an indispensable computer product for fashionable and business people today. The screen uses a 10.1″ LED backlight panel with resolution of up to 1024 x 600.
  Regarding Touchpad (Product Specification)

                         With the unique non-keyboard form and a narrow
                         border of fashionable design, exquisite and
                         detailed modeling, especially with super think,
                         wide viewing angle and backlit 10.1 inch LED,
                         Hanvon Touchpad supports 1080P high-definition
                         playback and HDMI output, in order to achieve
                         superior video and audio enjoyment. Together with a
                         range of touch Software, it fulfils the operations
                         of the office and entertainment environments. With
  Description            Windows 7 as the pre-installed operating system,
                         Touchpad supports full-touch mode of operation.
                         Computer operations have been subverted the
                         traditional way, so that the computer's operations
                         are controlled freely by fingers. Because of
                         Wireless communication devices such as Wi-Fi and
                         Bluetooth, online interactive activities come true
                         conveniently. A different body design (aluminum,
                         plastic) brings the perfect touch feeling. The
                         unique design solves problems of overheating,
                         knocking and other issues. With the weight between
                         960g-999g, body thickness of only 18mm, slim and
                         lightweight, Touchpad is easy to carry and fits
                         right in a pocket.

  Model                  BC10C

  Cover Material         Aluminum Alloy / Carbon Fiber

  CPU Platform           CULV

  CPU Type               743

  Memory                 2GB

  HDD                    2.5"/ 250GB/ 320GB

  Screen                 10.1" Super-thin Backlight LED

  Resolution             1024 x 600 dpi

  Wireless Communication
   Device                WIFI1802.11BG, Bluetooth

  Video Port             MiniHDMI > VGA MiniHDMI > HDMI

  Cardreader             Can read SD/MD/MSD Cards

  Screen Type            Capacitance

  USB                    USB2.0 (two)

  Audio Input/ output    Equipped with microphone/earphone &
                         microphone/speaker

  Adapter                Input: 100=240 50/60Hz output: 19V=3.42A DC head:
                         bend

  Battery/Battery
   capacity              Li-Polymer High-energy Battery 4800mAh

  Camera                 130 mega pixels




This article may contain affiliate links. Click here for more details.