Happy 1 Year Anniversary To GottaBeMobile.com
Time to celebrate and we almost missed it. We've been so busy here at GottaBeMobile.com that we almost missed a couple of important milestones. One year ago today, February 26th, Rob Bushway and Dennis Rice opened up shop here with GottaBeMobile.com and started a conversation. What an exciting and fun year long conversation it has been. That conversation and this site has grown and continues to grow because of the phenomenal response we receive from you, our readers.
In that year, Rob and Dennis have expanded the team to include Matt Faulkner, Eddie VanDerBeck, and yours truly. As a team we've made some 2090 posts and fielded a ton of comments and feedback on a host of topics. Last fall we added forums to the site and the response there has also been phenomenal. We now have over 1000 registered users who have created over 13,600 posts. And of course we have had a blast creating our InkShow content featuring reviews of hardware, software, accessories, interviews, and more in 90 InkShows to date. We've also been blessed with the sponsorship support of TechSmith.com for our InkShow programs and TabletKiosk for their sponsorship of the GBM Forums.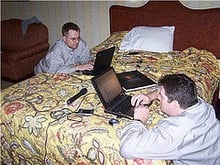 If one moment sums up the year for me, it was in a Las Vegas hotel room (don't worry Dennis, I'm not telling that story) when we were all busy producing InkShows and cranking out posts while cracking each other up with the occasional monkey flying across the room. And to think, that was the first time we had all met in the same place at the same time. And we survived!
This next year promises to be just as exciting and just as much fun as we continue and (hopefully) get better and better at what we do, adding more fun and more coverage into the mix. We love what we do and continue to remain passionate about covering the world of Tablet PCs, Ultra-Mobile PCs and mobile tech. That's because we know you are just as passionate, (but maybe not
as crazy) as we are about this great technology. We also love hearing from you in comments here on the home page or in the forum, because that's what it is all about. Continuing the conversation.
So thank you for making this first year of GottaBeMobile.com such a success. We couldn't do it without you.
And if you're wondering why I'm writing this important anniversary post, its because we gave Rob and Dennis the night off to celebrate.

Here's to you, Rob and Dennis. Thanks for starting the conversation!

As an Amazon Associate I earn from qualifying purchases.