Happy Birthday Tablet PC!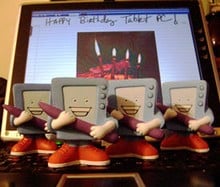 Break out the birthday candles! Sing choruses of Happy Birthday! (Actually hold off on that, it might violate some license restriction somewhere.) But do celebrate! November 7th marks the 4 year anniversary of the launch of Tablet PCs. Lora Heiny reminds us that we now have 18 Tablet PC models and 4 Ultra-Mobile PC models as the Tablet PC turns four. Hmmm? Wonder how many we will see in year five? In any regard, say Happy Birthday to your Tablet PC today!

As an Amazon Associate I earn from qualifying purchases.