Hardware Hack Allows Samsung Galaxy S III to Wirelessly Charge Using Palm Touchstone Charger
While we're still waiting for an official wireless charging back battery cover and charging solution from Samsung, enterprising hardware hackers of the Samsung Galaxy S III have devised a way to get wireless charging enabled through the use of old Palm Pre components. If you have an old Palm Pre or Palm Pixi with the wireless Touchstone back charger, along with the Touchstone wireless charging accessory, you can do some hardware modification to enable the same experience on your Galaxy S III.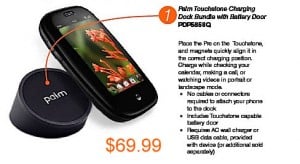 You'll have to graft the the Touchstone component from the rear back battery cover of a compatible Palm Pre or Palm Pixi smartphone onto the Glaaxy S III's polycarbonate rear battery cover. The solution does cause some the rear battery cover of the Galaxy S III to bulge out a little, but as we found in the review, the rear battery cover is extremely flexible so this shouldn't be an issue at all.
As the magnets are also part of the Touchstone-enabled Pre rear cover, with the grafted components, the magnets should be able to securely hold your Galaxy S III onto the Touchstone charger. It's definitely an elegant solution for your desk.
Soldering seems to also be needed.
Thanks to Peter Dangtran for the news tip.