Harman Introduces JBL OnBeat Rumble iPhone 5 Speaker Dock
Harman, the company behind the JBL line of speakers today announced its most expensive Lightning speaker dock yet, the JBL OnBeat Rumble as well as a new mid-range speaker called the JBL OnBeat Mini.
The JBL OnBeat Rumble is the company's new highest-end Lightning speaker dock, and it sells for $399. The previous most expensive Lightning speaker dock is the JBL Venue LT which sells for $199. Like the Venue LT, the OnBeat Rumble can support any iOS device with a Lightning port including the iPhone 5, new iPod touch, iPad fourth generation and iPad mini.
The OnBeat Rumble features a 4.5-inch subwoofer that points down to create "thunderous performance." Unfortunately, Harman doesn't give many details beyond the subwoofer and the system's 50 watts of power as opposed to the 30 watts in the Venue LT.
Read: iPhone 5: 4 Speaker Docks That Will Work With Your New iPhone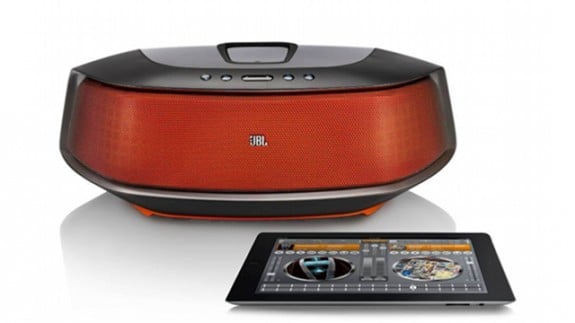 Harman also included Bluetooth in the JBL OnBeat Rumble so users can connect devices without Lightning ports to the speaker. Bluetooth doesn't produce the best sound possible, but it's a nice option to have for users who may only have one device with a Lightning port and others with the 30-pin Dock Connector.
In addition to the OnBeat Rumble Harman also introduced the new JBL OnBeat Mini today.
The OnBeat Mini is almost identical to the OnBeat Micro the company introduced in November, but it has one key difference. The OnBeat Mini has a larger docking area that can accommodate the iPad mini and iPad fourth generation as well as the iPhone 5. The OnBeat Micro can only support the iPhone 5 and smaller devices like the new iPod touch and iPod nano.
The JBL OnBeat Mini costs $149, which is $50 more than the Micro and $50 less than the Venue LT which can also support all sizes of iOS devices. with Lightning ports.
Harman was one of the first companies to introduce speaker docks that support the Lightning port, and more companies will likely announce their own Lightning speaker docks at CES 2013 next week.