Has the iPhone 5 Been Spotted in the Wild?
If you aren't about to pass out yet from all of the iPhone 5 rumors we've been swamped with, we have one that looks like it could have some legs. 9to5Mac was tipped off by a commuter who thinks he spotted an Apple employee holding the unannounced phone on a train. He whipped out his blurrycam and snapped the picture, which you'll see below.
The tipster was apparently skeptical until he got home and read about alleged leaks from Chinese iPhone case manufacturers that may show a new design with a curved back. The phone that he spotted looks like it could be the very phone that those cases were built for:
The previous case leaks had detailed a larger screen, an expanded home button area (possibly for gestures), a curved back, and a thinner body. Though we can only see the back of it, nothing we see in this shot contradicts that.
The tipster, who has previously owned several iPhones and iPods, knows his Apple iProducts and says this was none of the above. We would have to agree.
The phone in question appears to be much thinner than an iPhone 3GS, and is not squared-off like an iPhone 4. He said that the owner of the phone was covering the Apple logo with his life, and only let it show for a brief glimpse as this photo was snapped.
We isolated a portion of 9to5Mac's photo and adjusted lighting and sharpness to try to give you a better glimpse of the possible iPhone 5: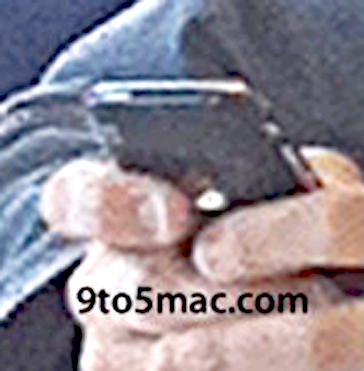 The tipster said that the screen size was "almost EVO-like," and he said it looked like an Apple product. Of course the peek of an Apple logo on the back suggests this. But he was amazed at how well-built the phone appeared to be. That that would suggest that it isn't just a Chinese knock-off.
It apparently features aluminum sides (like the Samsung Galaxy Tab), and its curved back could be made of either plastic or glass.
These are the supposed "iPhone 5 cases" that leaked earlier this week. The tipster said that the phone he saw would fit perfectly into them:
If anyone is having deja vu, the spring of 2010 had blog Gizmodo getting their hands on an iPhone 4. That model was being tested in the wild, and was left in a bar by an Apple employee who was fortunate to (apparently) keep his job.
As skeptical as we are of all of the iPhone 5 leaks, this one looks like it could possibly be the real deal. We don't have a lot to go in with these shots, but when combined with the previous case "leaks," we could have something here.
What do you think? Could this be the iPhone 5? If so, would you buy it? Do you prefer a curved back, or would you miss the iPhone 4's Leica-camera-like look?
You can check out one more image below, and then let us know what you think about all of this in the comments:

As an Amazon Associate I earn from qualifying purchases.