Headlines We'll See This Weekend When iPad Begins Arriving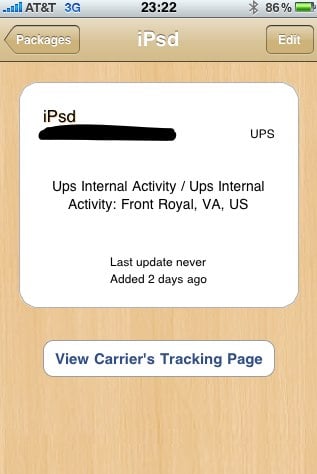 I'm sure there will be a few surprises in store after iPads get in folks hands this weekend. Already we're hearing confusion about shipping and the fact that UPS might or might not be able to live up to Apple's promised delivery of April 3. Like everything else, that's life on the bleeding edge.
On a personal note, I've chuckled the last couple of days as the TrackThis app on my iPhone has been updating me of any changes in shipping. Apple is obviously working with UPS to keep things on Apple's schedule, as I've seen several notices that say things like Internal UPS Activity. I've also seen locations from China, to Louisville, KY, to the local UPS depot here, with frequent stops back in China, which appears to be where it is at the moment. I've also chuckled as the product name is listed as WORLD EASE when I follow the link to the product page. I'm not sure if that's some sort of shipping code, or just wishful thinking.
But anyway, what won't be all that surprising this weekend are the headlines we'll see around the web about the iPad. Most will follow similar, tried and true patterns. We'll probably also see some of the main stream media gadget reviewers release their reviews on Thursday or Friday. In the meantime, here are a few headlines that I'm sure we'll see this weekend:
Apple Store is Down!!!!
My new iPad is Amazing(wonderful, magical, etc…)
My new iPad is Disappointing.
Standing in Line at Apple Store/Best Buy for my new iPad.
Large crowds and lines waiting for iPads.
Crowds and lines not very large waiting for iPads.
iPad sold out at Apple Store.
iPad sold out at Best Buy.
Plenty of iPads available at Apple Store/Best Buy.
Apple posts iPad availability chart.
My local Best Buy Isn't Carrying iPads.
My iPhone/iPod Touch apps don't look so good on the iPad.
Why do I have to pay for iPad versions of iPhone/iPod touch apps I already own?
Why are iPad apps more expensive than the versions for the iPhone?
Surprising lack of iPad Specific Apps in the App Store.
Surprisingly large number of iPad Specific Apps in the App Store.
What do you mean I have to download iTunes 9.1 before I can sync my iPad?
iTunes 9.1 crashed my machine.
iPad syncing takes too long.
iPad syncing doesn't take long.
The iPad is heavier than I thought.
The iPad is lighter than I thought.
I'm live on UStream with my new iPad!!!
I'm live on QIK with my new iPad!!!!
iPad UnBoxing!!!!!
iPad speaker is too soft.
iPad speaker is surprisingly good.
The iPad is a finger print magnet.
Apple servers are down due to heavy iPad traffic.
What's taking UPS so long?
UPS and Apple ruined my weekend.
iBooks is Amazing.
I won't be switching from Kindle to iBooks.
I'm putting my Kindle on eBay.
iPad virtual keyboard is tough to type on.
iPad virtual keyboard is amazing and easy to type on.
The iPad will not replace my/your computer.
You won't be doing much real work on the iPad.
The iPad isn't just a consumption device.
I don't like the iPad's 4:3 screen ratio.
My favorite/must have app hasn't been updated yet for the iPad.
My favorite/must have app is crashing on the iPad.
And then there's this one that I've already seen from Greenpeace: Greenpeace links Apple iPad to Global Warming.
I'm also betting we'll see all sorts of April Fools Day jokes about getting iPads early come tomorrow.