Heads Up: A New iOS Party Game Made For Ellen Degeneres
Impending, developers of the fantastic Clear app, has a new iPhone game designed for Ellen Degeneres' show that anyone can download. It's called Heads Up.
The idea behind Heads Up is simple: players select a category of things they want to guess and place their iPhone on their forehead. Their friends will then try to get the player to guess the word or name displayed. The goal is to guess as many words correctly as possible within 60 seconds.
Once the player correctly guesses a word correctly they just tilt the phone down to get a new virtual card. Or, if they can't guess the word, they just tilt the game upwards to pass onto the next one.
The game is simple, and a number of cards games use similar ideas. Heads Up adds to the formula by recording video of the player's friends as they play. After each round users have the choice to save the video to the camera roll, email the video to a friend, share it to Facebook or send it to Ellen Degeneres. Presumably Ellen will feature the best videos on he show or website, but that isn't explained in the app.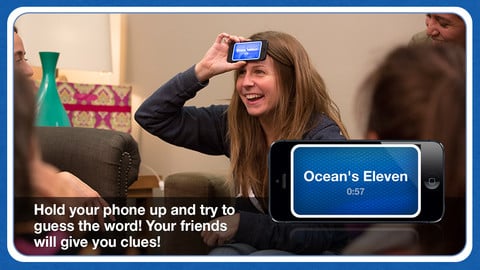 The game comes with a variety of categories including "Pop Star Overload" (guess the names of pop stars), "Act It Out" (mime each word like charades), "Animals Gone Wild," "Accents & Impressions" and "Icons, Legends & Stars." Players also have the choice to buy additional packs for $0.99 each. Those packs include 90s trivia, 80 trivia, fictional characters, literature, sports icons and TV trivia, among others.
Heads Up is available in the App Store now for $0.99. The game only has an iPhone version, but as Ellen showed on her show and in the clip above it still works well when blown up on the iPad or iPad mini.

As an Amazon Associate I earn from qualifying purchases.