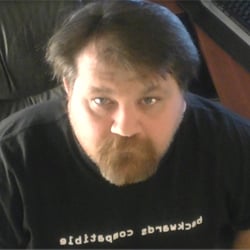 I wanted to start off my writing here at GottabeMobile with a little into about myself. Some of the readers might already know all about me, but for those that don't, here you are.
I am Chris Leckness, I am the previous owner and editor of Mobilitysite.com (as well as Aximsite, GotZune, iPAQHQ, and others). I am a long time Microsoft MVP, Windows Phone, but I have been primarily an iPhone user since the launch of Windows Mobile 6.5. I am fairly sure that Windows Phone 7 will bring me back from the dark side though. I am not totally platform agnostic, but I try to give all mobile operating systems a fair shake.
Let's see, Today is my 19 year anniversary. I have 2 kids, Brittney (17) and Brett (8) and I live happily in Tuscaloosa, Alabama, home of the Crimson Tide. I spent 10 years in the US Navy as an Electronics Tech and 10 more years as an Electronics Technician for Bellsouth.
I have been writing about mobile tech for 10 years now. My current mobile aresenal includes an iPhone 3G, an HTC HD2, an iPad, and a Sony VAIO laptop. These are the devices I actually use, but there are more in my graveyard that I don't mind digging up on occasion. I recently retired my HTC Advantage that served as my living room device, replacing it with an iPad.
I look forward to sharing my mobile phone opinions and experiences with GBM!

This article may contain affiliate links. Click here for more details.