Help For Chronic Tablet PC Pen Losers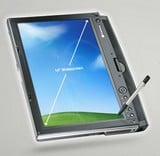 The Tabletscape is full of sad tales of many a lost Tablet PC pen. One of the first things I add to any calculation when I'm thinking about a new Tablet PC is the cost of a replacment pen. Well, this post from Loren Heiny details some help for those who chronically misplace their pen from Gateway.
One of the nice features of the Gateway Tablet PC is a bios option that causes the Tablet to beep if the pen is not in the pen holder after shutting the Tablet down.
I hadn't known that before, but it seems like a nice option that other OEMs should think about as well. More details on The Incremental Blogger.

As an Amazon Associate I earn from qualifying purchases.