Herbi Writer – Helping Children With Learning Disabilities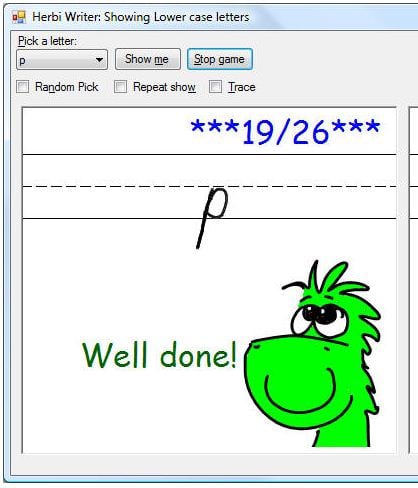 Many readers of GottaBeMobile.com have been following the journey my daughter, Maggie, has taken through the years due to a brain tumor.  Some of the many consequences of the tumor and multiple brain surgeries she's had has been a lack of hand-eye coordination and brain integration / pathway problems. Maggie's occupational therapist works with her three times a week on activities that help cross the midline of the brain: physical exercises, sensory integration, handwriting development, and fine motor skills.
Today I became aware of a handwriting program designed to help occupational therapists help their students develop handwriting skills: Herbi Writer. Herbi Writer is a Tablet PC / UMPC and Smart Board application that helps teach children how to properly write letters. Here is Guy Barker, the developer of Herbi Writer, talking about what the application is designed to do:
Herbi Writer shows sample letters to the student, and the student writes the letter on the computer screen. If the software considers the student's letter to be a match for the sample, positive feedback appears on the screen. You can have reinforcing phrases spoken by the computer too. A simple game can be played to see how many letters of the alphabet are correct when writing all the letters of alphabet.
I'm going to download Herbi Writer and let Maggie use it for a while, as well as show Maggie's occupational therapist about the program. I'll  report my findings in the coming weeks. Meanwhile, head over to Herbi.org and check out their video demonstrations. Barker is looking for some feedback on the application from other occupational therapists. Herbi Writer, as well as other assistance programs like Speech Assistant, are free to download.